a
Naval Industry News - Italy
Fincantieri Lays Keel of New LSS – Logistic Support Ship for Italian Navy
The keel laying ceremony of the Logistic Support Ship (LSS) was held today at Fincantieri's shipyard in Riva Trigoso (Sestri Levante, Genoa). Construction works continue on the first unit of the renewal plan of the Italian Navy's fleet, which has been commissioned to Fincantieri. The vessel will be delivered in 2019.
Keel laying for LSS. Picture: Fincantieri
The LSS Programme is a logistic support ship programme for Italy. With its state of-the art design and technical features, the ship will meet today's requirements of a modern Navy in various scenarios. LSS will offer an extraordinary capacity and a high degree of flexibility at low support cost.

This unit, fully interoperable with NATO and EU partners, will be more versatile than the present generation of ships, benefiting from an extensive use of the modularity concept. It will be conceived since the beginning of the design phase with enhanced "dual use" features, fit for traditional military tasks and able to intervene also during peace time, supporting Humanitarian and Disaster Relief Assistance Operations (i.e. modular hospital, electrical power/drinkable water ashore and containers).

The LSS Programme includes Development and Production of one ship and the In Service Support for ten years. The LSS will be capable of supporting a naval Joint Task Force, to support disaster relief operations, to provide medical support (NATO Role 2 LM) and to transport naval and aviation fuel, fresh water, ammunitions, lubricating oil, food, spare parts and 20 ft ISO containers.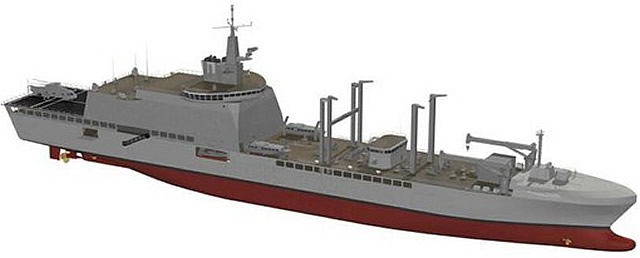 The Logistic Support Ship - LSS
LSS – Logistic Support Ship
The LSS is a vessel that provides logistics support to the fleet, endowed with hospital and healthcare capabilities thanks to the presence of a fully equipped hospital, complete with operating rooms, radiology and analysis rooms, a dentist's office and hospital rooms capable of hosting up to 12 seriously injured patients. The ship is capable of combining capacity to transport and transfer to other transport vessels used for liquids (diesel fuel, jet fuel, fresh water) and solids (emergency spare parts, food and ammunitions) and to perform at sea repairs and maintenance work for other vessels. The defense systems are limited to the capacity of command and control in tactical scenarios, communications and dissuasive, non-lethal defense systems. The vessel is also capable of embarking more complex defence systems and becoming an intelligence and electronic war platform.
• 165 meters long
• speed of 20 knots
• 200 persons including crew and specialists
• 4 replenishment station abeam and 1 astern
• Capacity to supply drinking water to land
• Capacity to provide electricity to land with 2500 kw of power
• Possibility of embarking up to 8 residential and healthcare modules
• Capacity to perform rescues at sea, through recovery and seabed operations (the ship is equipped with an 30 tons offshore stabilized crane stabilized)
• base for rescue operations through helicopters and special vessels