a
Focus - Super Etendard Modernisé
Video: Last Flight of the French Navy Super Etendard Modernisé Strike Fighter
By Xavier Vavasseur - Chief Editor
The French Navy (Marine Nationale) naval aviation officially retired the Super Etendard Modernisé (SEM) carrier-borne strike fighter aircraft one week ago (July 12, 2016) during a ceremony at Landivisiau Naval Air Base in Brittany. Navy Recognition attended the event.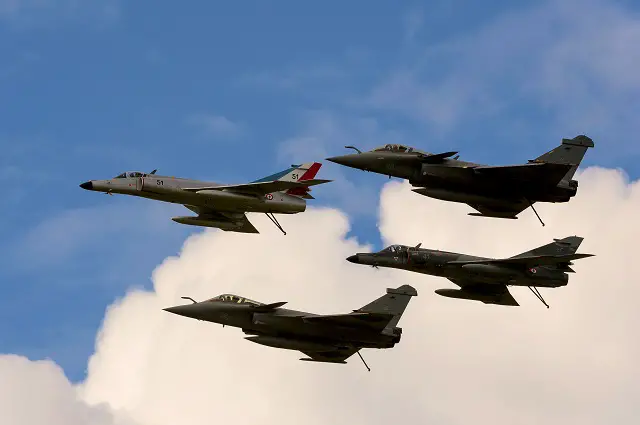 Two SEMs from 17F airwing flying in formation with two Rafale Ms for their last flight.
Picture: F.Duplouich©Marine Nationale
Five SEMs fighters were still active in the French Navy. They all belonged to Flottille (air squadron) 17F. With All SEMs are now retired and all French Navy Naval Aviation Fighter Squadrons (11F, 12F and 17F) will fly on the Rafale M. The Charles de Gaulle fixed wing airwing will be composed of Rafale M and E-2C Hawkeyes exclusively now, as the aircraft carrier's CAG explained to us.

During the decommissioning ceremony, it was announced that the SEMs achieved 93% availability during their last deployment aboard the Charles de Gaulle earlier this year.

During their latest operational deployment, SEM flew close air support (CAS) and strike coordination and reconnaissance (SCAR) mission above Syria and Iraq, typically spending 3 hours on location (6h mission duration to be compared with 7h30min for the Rafale Ms). They were all fitted with Damocles or ATLIS pods.

All 17F pilots and technicians are now transitioning to the Rafale M. The remaining 17F pilots qualified on SEM exclusively will conduct a requalification campaign aboard the Rafale M and aircraft carrier in July. We learned that there already are 5 Rafale M in the 17F squadron. 17F will achieve full operational status in 2018 right when the Charles de Gaulle is out of dry dock for its mid lift refit. 17F will requalify for AMSP-A (tactical nuclear missile) nuclear missions and RECO NG (reconnaisanse pod) recon missions.

Ultimately there will be 3 Rafale M squadrons in Landivisiau with 12 aircraft, 18 pilots and 120 technicians each.

Video: Last flight of the SEM
Close to 50 SEMs were delivered to the French Navy. Based on the Super Étendard, itself based on the Étendard IVM, the Super Etendard Modernisé was constantly upgraded by the French Navy through its life. It was used for anti-ship, strike, reconnaissance and nuclear strike missions.

Key dates for the Super Etendard (SUE):
September 4 1973: Order of 60 aircraft (plus two optional tranches of 20 units each). In the end 71 Super Étendards will be ordered by France and 14 by Argentina.
October 28, 1974: First flight of the SUE 1 (a modified Etendard 68)
November 24, 1977: First flight of the serial production SUE
June 28, 1978: First delivery to the French Navy
December 1978: First deployment of the SUE aboard aircraft carrier Foch as part of 11F squadron
1980: First SUEs for the 17F squadron
1986: Launch of the Super Étendard Modernisé (SEM) program
June 8, 1993: First delivery of the SEM (to 17F squadron)
1995: First SEM delivered to the 11F squadron
2007: First SEM in "standad 5" variant
March 16, 2016: Last catapult launch from the Charles de Gaulle


The last three SEMs which flew with the French Navy
Picture: F.Duplouich©Marine Nationale
40 years of operations:

Super Etendard:
Olifant (1983-1984): During the civil war in Lebanon, the Foch carrier strike group conducts the evacuation of the French troops based in Beyrouth (800 men).
Brochet (1983): Operation launched in retaliation to the bombing against French soliders in Beyrouth.
Prométhée (1988): From aircraft carrier Clemenceau, Super Etendards conduct patrols to protect civil marine traffic in the Ormuz strait during the Iran Iraq war.

Super Etendard Modernisé:
Balbuzard & Salamandre (1993 - 1996): Clemenceau and Foch aircraft carriers conduct missions in the Adriatic sea to protect the French soldiers deployed as part of the UNPROFOR United Nations Protection Force (United Nations peacekeeping force in Croatia and in Bosnia and Herzegovina during the Yugoslav Wars).
Trident II (1999 - 2000): Because of the humanitarian situation in Kosovo, France and the international community decide to assist the refugees.
Héraclès (2001 - 2002): Following the 9/11 terror attacks, aircraft carrier Charles de Gaulle conducts its first mission. SEMs fly missions against Talebans in Afghanistan.
Agapanthe (2004 - 2006 - 2007 - 2010): Flying from the Charles de Gaulle, SEMs fly combat missions in Afghanistan.
Serpentaire (2008): SEMs are land based and fly combat missions from Kandahar air base to support the coalition in Afghanistan.
Harmattan (2011): Military intervention in Libya. The French Navy deploys a lot of assets in a high intensity environment.
Arromanches I & II (2015 - 2016): The Charles de Gaulle is deployed to the Persian Gulf to fight the Islamic State in Iraq and Syria. Arromanches II is the last operation for the SEM.