a
Naval Forces News - UK
Lockheed Martin delivered the 30th and final Merlin Mk2 Helicopter to the Royal Navy
The UK Ministry of Defence has taken delivery of the 30th upgraded Merlin Mk2 helicopter from industry. Lockheed Martin UK joined representatives from the Royal Navy and the Ministry of Defence for a ceremony to mark the handover of the final airframe at Leonardo's facility in Yeovil, England.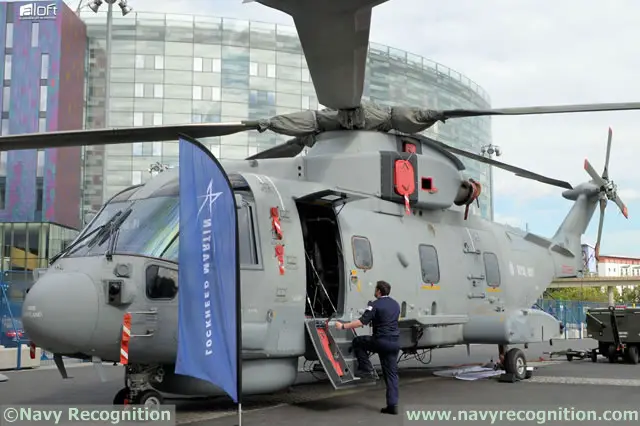 Royal Navy Merlin MK2 Helicopter on display during DSEI 2015

For the last ten years, employees from both Lockheed Martin and Leonardo have been involved in the design, development and manufacture of the Merlin Mk2 as part of the Merlin Capability Sustainment Programme (MCSP). Under the £750m contract, thirty Mk1 helicopters were upgraded to enhance and extend their life with the Royal Navy.

The first helicopter was handed over in November 2012 and the event this week marks the significant milestone in the programme, which has seen all the airframes delivered on time and on budget. More than 1,000 jobs have been sustained throughout MCSP in Havant, Yeovil and Culdrose, where the helicopters are based.

Bob Kramer, Vice President of Lockheed Martin UK - Integrated Systems said: "Merlin continues to be a world beating maritime helicopter that is an asset critical to UK defence and that will be an integral part of the future aircraft carrier capability. The success of this programme has been a result of excellent teamwork among industry and our government partners that has enabled us to consistently deliver on cost and schedule."

The Merlin Mk2s have new radars, sonar systems, infra-red cameras as well as large flat, panel displays, giving pilot's greater situational awareness. Since being in operation with the Royal Navy, the Merlin Mk2s have been pivotal in the rescue of migrants in the Mediterranean and on operations in Sierra Leone.
Operator consoles aboard the Royal Navy Merlin Mk2 Helicopter present at DSEI 2015

The first Royal Navy Merlin Mk1 entered service in December 1998 and last of the 44 Merlin helicopters acquired was delivered in November 2002. Two were lost during accidents. The 28 EH101 Merlin HC3/HC3A currently serving with RAF are expected to be handed over to the Royal Navy in the future, to replace the Sea King Mk4 used by the Royal Marines.

The upgraded Mk2 helicopters feature high-end systems and capabilities, with Lockheed Martin UK being the main integrator. These include a management system and state-of-the-art glass cockpit (AgustaWestland), new solid-state storage unit (Saab), an upgrade of the Blue Kestrel surveillance radar of the Mk1 with SAR/ISAR modes and enhanced track-while-scan capability (Selex ES), an acoustic system suite that can perform both passive sonobouy and active sonar dipping search (Thales), a Data Preparation Facility and the Civil Navigation Database Loader (BAE Systems), an upgraded cockpit simulator with training devices for the whole of the crew (CAE) and 24-inch displays for the mission system operators (Barco).