a
Naval Defense Industry News - USA
BAE Systems to Upgrade & Digitize Mk 45 Naval Guns on U.S. Navy Burke-class Destroyers
The U.S. Navy has awarded BAE Systems a $50 million contract option to upgrade four additional Mk 45 Naval Guns on
Guided Missile Destroyes (DDG 51s),
converting the guns to a fully-digital Mod 4 configuration. The option, exercised under an initial 2015 award, brings the full value of the contract to $130 million for a total of 10 modernized gun systems.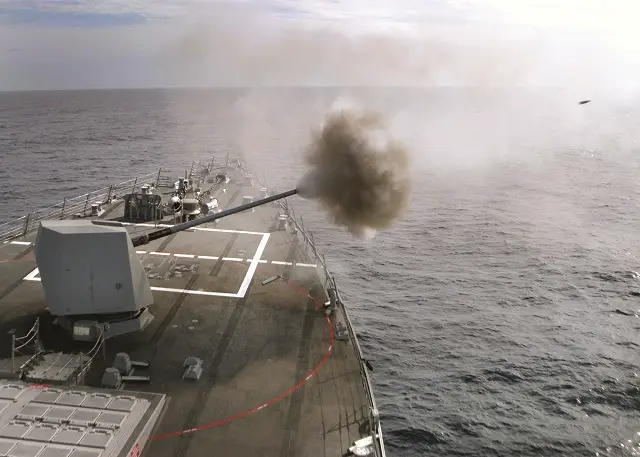 The BAE Systems Mk45 Mod 4 main gun is being fitted on all new-built (or upgraded) US Navy destroyers and cruisers
Key updates to the Mod 4 configuration include a mechanically strengthened gun mount and a completely digitized control system. The stronger mount allows the gun to achieve 50 percent higher firing energy, and the new digital control system provides significantly more computing power while utilizing a user interface similar to that of a smartphone. These major enhancements enable the seamless integration of targeting and fire control data, such as GPS, positioning the Mk 45 to fire precision guided munitions at unprecedented ranges.

"The proliferation of high-volume, low-cost threats is driving the need for multi-mission, cost-effective precision fire from naval guns like the Mk 45," said Joseph Senftle, vice president and general manager of Weapon Systems at BAE Systems. "As a leader in large-caliber naval guns and precision guided munitions, our team is committed to developing reliable and affordable technology that adapts faster and reaches farther than ever before."

The updated Mk 45 guns are expected to remain in service for decades to come, making the cost-effective Mod 4 conversion and the continued development of advanced munitions — such as the Hyper Velocity Projectile and Standard Guided Projectile — essential components of future surface warfare.

Work on the Mk 45 Mod 4 conversions will be performed at the BAE Systems' facility in Louisville, Kentucky, with support from its facility in Minneapolis, Minnesota. Delivery of the first upgraded gun will take place in late 2017 with the last delivery scheduled for 2020.

BAE Systems has designed, produced, and supported Mk 45 Mods 0-4 for more than 40 years. The Mk 45 is the lightest, most compact 5-inch fully-automatic naval gun in the world and also the most widely deployed, with more than 260 deliveries to the U.S. Navy and 10 international fleets. The company's Louisville facility houses its Naval Guns Center of Excellence for manufacturing, providing component and spares fabrication, as well as final system assembly and testing of new and modernized gun systems.