a
Naval Forces News - France
French Navy Charles de Gaulle Carrier Strike Group Started Combat Operations Against IS

The French Navy issued a statement to announce that the Charles de Gaulle Carrier Strike Group (CSG) left Toulon naval base (Southern France) on September 30th and its airwing has already started combat operation against Daesh as part of the "Chammal" operation.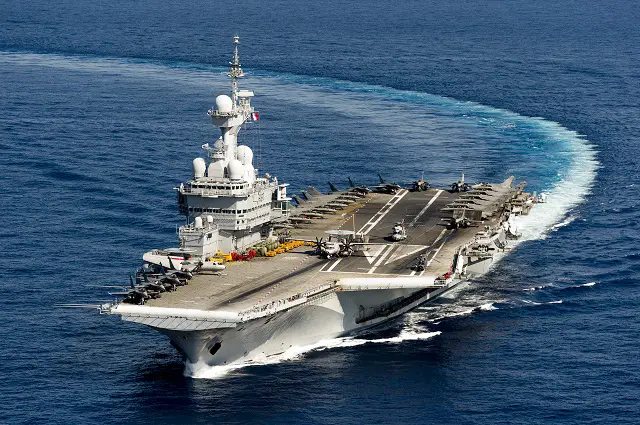 The French Navy nuclear-powered aircraft carrier (CVN) Charles de Gaulle (R91) with 24x Rafale M fighters aboard. Picture: French Navy
The CSG, currently deployed in the Eastern Mediterranean, is composed of:
» The nuclear powered aircraft carrier (CVN)
Charles de Gaulle
» An Embedded Air Group (EAG), comprising 24x Rafale M, 2x E-2C Hawkeye and 4x helicopters (it is the first time the French aircraft carrier deploys for combat operation without the Super Etendards Modernisés which have been retired from service in July).
» The Forbin class Air Defense Destroyer (DDG)
Chevalier Paul
» The
Cassard
Anti Air Warfare Frigate
(with 1x Panther helicopter)
» The
Leygues class Anti Submarine Warfare Frigate
Jean de Vienne
(with 2x Lynx helicopters)
» The
US Navy Burke class Guided Missile Destroyer
USS
Ross
» The German Navy Anti Submarine Warfare
Augsburg
» The Durance class Replenishment Oiler (AOR)
Marne
» A Rubis class Nuclear Attack Submarine (SSN)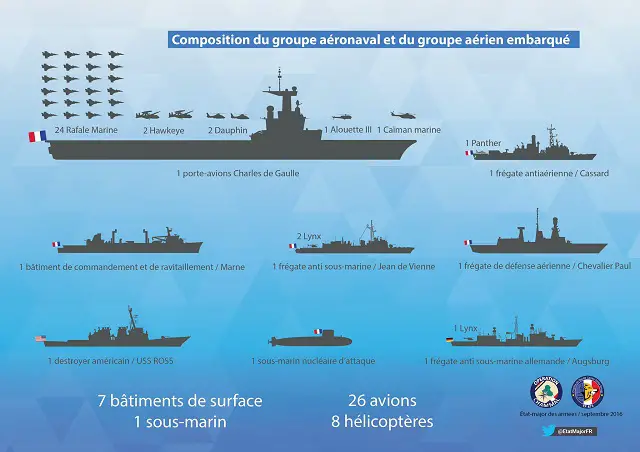 Infographic: French MoD
Launched on September 19, 2014, the "Chammal" Operation represents the French participation to Operation Inherent Resolve with nearly 4,050 soldiers today. At the request of the Iraqi government and in coordination with France's allies in the region, the Chammal operation is based on two complementary pillars:
- "training" for the benefit of Iraqi national security units.
- "support" of local forces engaged on the ground against Daesh.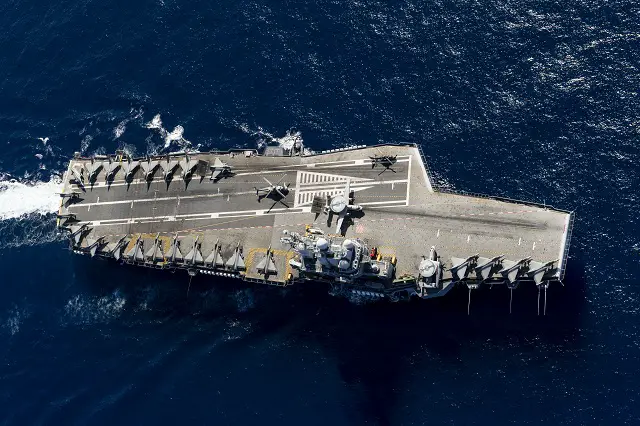 The French Navy nuclear-powered aircraft carrier (CVN) Charles de Gaulle (R91) with 24x Rafale M fighters aboard. Picture: French Navy