a
Naval Forces News - USA
U.S. Navy Commissioned Ingalls-built Amphibious Transport Dock John P. Murtha (LPD 26)
The U.S. Navy commissioned the amphibious transport dock ship John P. Murtha (LPD 26) on October 8, 2016 during a ceremony at Penn's Landing in Philadelphia. Designated LPD 26, John P. Murtha is the tenth amphibious transport dock ship in the
San Antonio class
. These versatile ships incorporate both a flight deck to accommodate CH-46 Sea Knight helicopters and MV-22 Osprey tilt-rotor aircraft, as well as a well deck that can launch and recover landing craft and amphibious vehicles.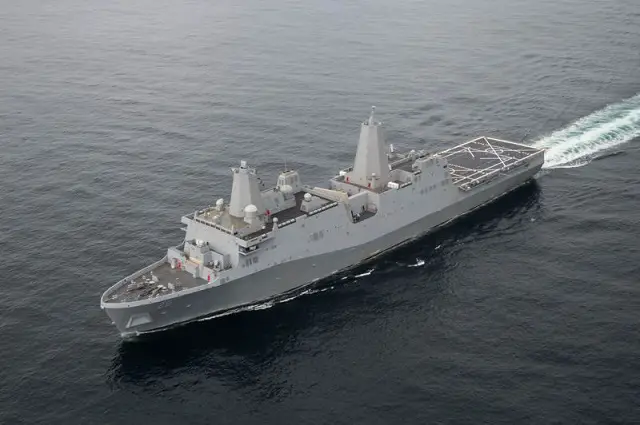 Ingalls Shipbuilding's 10th amphibious transport dock John P. Murtha (LPD 26) sails the Gulf of Mexico for Builder's Trial. Photo by Lance Davis/HII

LPD 26 is named in honor of the late John P. Murtha, who represented Pennsylvania's 12th Congressional District from 1974 to 2010. In addition to his tenured history in the House of Representatives, Murtha was also a veteran of the U.S. Marine Corps and Reserves. He served for 37 years and received the Bronze Star with Combat "V," two Purple Hearts and the Vietnamese Cross of Gallantry for his service in the Vietnam War. He retired as a colonel in 1990.
Ingalls has built and delivered ten ships in the San Antonio class. In addition to John P. Murtha, Ingalls has the 11th LPD, Portland (LPD 27), under construction. Portland launched on Feb. 13 and was christened on May 21. Ingalls received a $200 million advance procurement contract for the 12th ship in the class, LPD 28, in December 2015.
The San Antonio class is the latest addition to the Navy's 21st century amphibious assault force. The 684-foot-long, 105-foot-wide ships are used to embark and land Marines, their equipment and supplies ashore via air cushion or conventional landing craft and amphibious assault vehicles, augmented by helicopters or vertical takeoff and landing aircraft such as the MV-22 Osprey. The ships support a Marine Air Ground Task Force across the spectrum of operations, conducting amphibious and expeditionary missions of sea control and power projection to humanitarian assistance and disaster relief missions throughout the first half of the 21st century.

Link to San Antonio Class (LPD 17) Amphibious Transport Dock technical datasheet