a
Naval Forces News - Russia
Russian Navy's Northern Fleet conducts amphibious assault exercise on island in the Arctic
Troops with the Northern Fleet's Arctic brigade have landed from the Kondopoga large amphibious assault ship on the austere beach of Severny Island of the Novaya Zemlya archipelago, according to the fleet's press office.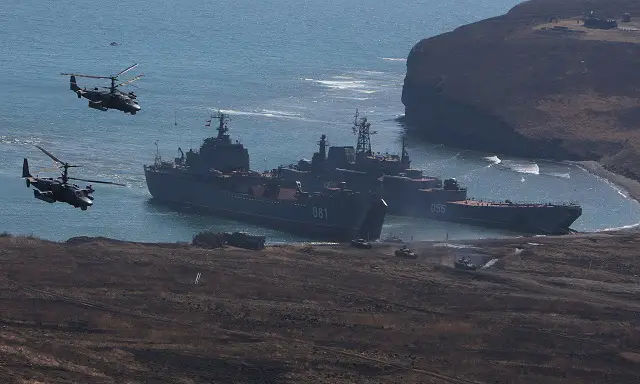 File picture: Russian Navy in amphibious assault

The ship lowered the ramp into the surf to let the troops disembark. Prior to that, the area of water had been surveyed by the Vizir hydrographic survey vessel. After the landing, the infantrymen trained to conduct raids and then staged an island and arctic zone defense exercise.

"About 100 troops on 11 armored vehicles - BTR-82A armored personnel carriers, MT-LBV tracked carriers, TTM amphibious swamp buggies/snowmobiles and KamAZ and Ural high-mobility trucks - have participated in the amphibious landing," the fleet's press office added.

A similar scheduled exercise was conducted on Alexandra Land of the Franz Josef Land archipelago in late September.

For the first time, the Arctic brigade of the Northern Fleet started training to conduct raids in unfamiliar terrain in the Arctic last year. An exercise in defending high-value industrial installations on the Taimyr Peninsula and providing security for the New Siberian Islands and Novaya Zemlya took place as part of the Arctic cruise of the fleet's task force made up of combatants and support vessels at the time.

© Copyright 2016 TASS. All rights reserved. This material may not be published, broadcast, rewritten or redistributed.