a
Naval Forces News - France
Raytheon demonstrates WiPAK® (Wireless Paveway™ Avionics Kit) on French Navy RAFALE aircraft
Raytheon Company successfully demonstrated a wireless method of integrating its combat-proven Enhanced Paveway™ II precision-guided bomb on the French Navy RAFALE aircraft. Called WiPAK®, the avionics kit enables integration of Paveway on a variety of aircraft without any modifications to aircraft wiring or changes to the flight and stores management software.

"With WiPAK, warfighters can easily and quickly provide targeting information, employ Paveway and gain all the benefits of a GPS/INS guided smart weapon for a fraction of what it would cost to integrate weapons through traditional means," said Harry Schulte, vice president of Raytheon Missile Systems' Air Warfare Systems. "WiPAK uses wireless connectivity technology similar to what is being used in laptop and tablet computers."

During the test, an Enhanced Paveway II GBU-49 was dropped from the RAFALE aircraft at the Biscarrosse test range in Southwestern France. The weapon system met all requirements during the demonstration and impacted the target well within the requirements.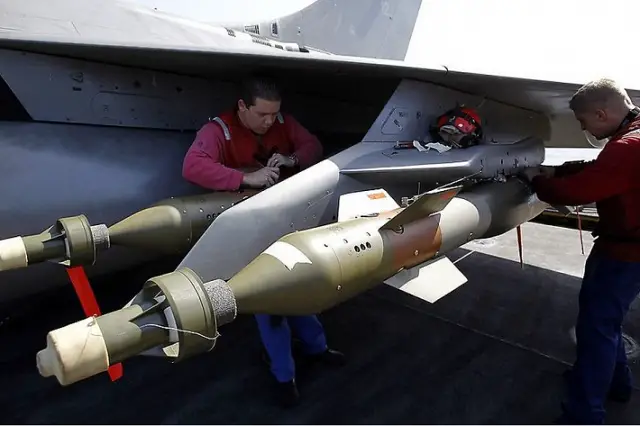 Sailors fit a Rafale M with some Paveway II laser-guided bombs onboard French Navy aircraft carrier Charles de Gaulle
(Image: French Navy)
"Enhanced Paveway II GBU-49 has been in operation with the French Navy for more than six years on their Super Etendard Modernise. EPII was used extensively during Operation Harmattan in Libya," said Schulte. "The success of the SEM program led the French Navy to investigate adding the Enhanced Paveway II to their next generation RAFALE fighter."

WiPAK consists of a small wireless transmitter, located in the aircraft cockpit coupled with a pilot interface, and a small receiver affixed to the Paveway weapon. The WiPAK allows the use of Raytheon's Enhanced Paveway II family of weapons on aircraft previously unable to carry such precision smart weapons. Raytheon's WiPAK is a combat proven system, used operationally on counterinsurgency aircraft. Raytheon is now testing and deploying the system on other similar aircraft as well as fighter jets.

About Paveway
Raytheon's Enhanced Paveway is a kit that transforms "dumb" bombs into precision dual-mode, GPS/INS and laser-guided "smart" munitions. The Paveway family of weapons is integrated on more than 17 aircraft in 42 countries. Raytheon has delivered more than 350,000 Paveway weapon kits.