a
Naval Industry News - USA
US Navy awards $212M contract to Textron for ship to shore connector (SSC) contract
The Navy awarded on July 6 2012 a $212,722,820 fixed-priced incentive-fee contract for the detail design and construction of a Ship-to-Shore Connector (SSC) test and training craft to Textron, Inc., New Orleans, La. The contract also includes options for up to eight additional craft which, if exercised, brings the cumulative value of this contract to $570,451,044. The award was based on full and open competition.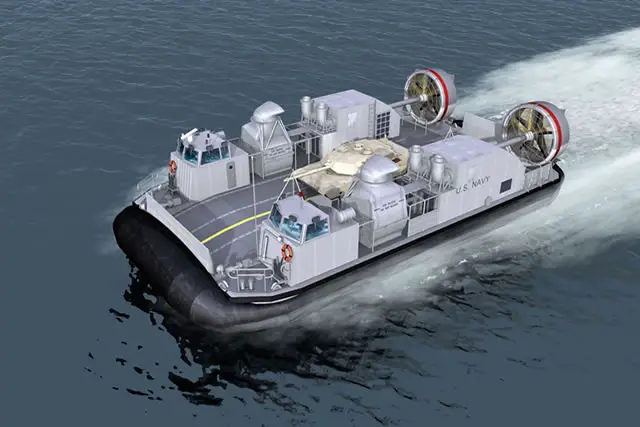 The SSC is an evolutionary replacement for the current Landing Craft, Air Cushioned (LCAC) vehicle, and benefits from more than 20 years of lessons learned from LCAC operations and maintenance.
(Picture: Textron)
"The Ship-to-Shore Connector program demonstrates the Navy's commitment to competition, while reducing acquisition and total ownership costs in the process," said Secretary of the Navy Ray Mabus. "This is the first major naval acquisition program in more than 15 years to be designed in-house. The level of detail provided by the government design increased competition, reduced overall procurement costs and leads to smooth transition to full production."
The SSC program will significantly enhance the Navy and Marine Corps team's capability to execute a broad spectrum of missions well into the 21st century, from humanitarian assistance and disaster response to multidimensional amphibious assault. Deliveries will begin in fiscal 2017 with initial operational capability projected for fiscal 2020.

(Video: Textron)
The SSC will be a high-speed, fully amphibious landing craft with a 30-year service life capable of carrying a 74-ton payload that can travel at speeds of more than 35 knots, day or night. Ship-to-Shore Connector supports rapid movement of Marine Expeditionary Forces from the sea base to shore and can tactically deliver personnel and heavy equipment to trafficable terrain well beyond the beach with the built-in reliability to operate in the harshest littoral environments.

Ship-to-Shore Connector will also bring improved technology and increased performance to handle current and future missions, plus better fuel efficiency and reduced maintenance through existing shore-based infrastructure. The Navy-led contract design, released to industry in a full and open competition, allowed for mid-tier builders without air-cushioned vehicle experience to compete for the detail design and construction contract. This approach uses the government's expertise in air-cushioned vehicles and provides industry with the flexibility to make component selections and complete design details for optimal producibility and lowest possible acquisition costs.