a
Mistral class LHD, Amphibious Assault Ship, Force Projection & Command Vessel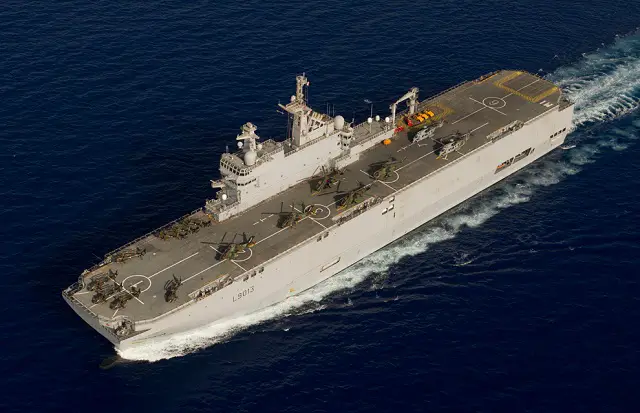 Designed by DCNS, Mistral BPC (Bâtiment de Projection et de Commandment) LHD is a multi-mission 21,500t amphibious assault, command and power projection ship. Mistral-class vessels are capable to accommodate and deploy 16 transport or attack helicopters, four landing crafts, up to 70 vehicles or 13 main battle tanks. They have accommodations for 450 to 700 troops. Each ship of the class is equipped with a 69-bed hospital.

Three ships are currently in service with the French Navy, with option and requirements for a fourth unit in the future.

The Russian Navy ordered two vessels of the class (with option for 2 more) in January 2011. The ships will be built by DCNS and STX along with Russian United Shipbuilding Corporation, OSK.

The head of class, Mistral, was commissioned with the French Navy in February 2006.
Shiplist
| | | | | |
| --- | --- | --- | --- | --- |
| Name | | User | Laid Down | Commissioned |
| | | | | |
| | | | | |
| | | | | |
| | | | | |
| | | | | |
| | | | | |
| | | | | |
- BPC 250: Original design of BPC (24,542 t, 214.5 m). This version was offered to the Royal Australian Navy for the Camberra class LHD (RAN eventually selected a Navantia design). For RAN needs it would have been fitted with a skyjump, heavier elevators and Inovelis pods to achieve higher speed (20+ kts).
- BPC 210: This is the final version selected by the French Navy following its own requirements. (21,500 t, 199 m)
- Russian Navy BPC: Similar in size to the French Mistral class (BPC 210). Minor modifications include increased hanger height to accomodate Kamov helicopters, reinforced hull to operate in Arctic zones, specific warming devices on deck, russian weapons (AK-630M, 3M-47 Gibka and MPTU) and systems.
- BPC 140: Downsized version of BPC (14,000 t, 169 m). 5 Helicopter spots (as opposed to 6 for BPC 210). Below deck helo hangar capacities : 6. Passengers/troops: > 400.
Technical Data
Back to top
Design
The first two vessels were constructed at various locations in three major sections (2 in Gdansk, Poland, 1 in St Nazaire, France) which were united on completion in Brest (France).
Civil standards and technologies are used in the construction process which significantly reduces both cost and time to completion.
First "all electric" ship in service within the French Navy, the BPC Mistral is fitted with two 360° rotating Pods providing unmatched maneuverability.
Missions
Command Ship :
850 square meters of modular, pre-wired space. It can accommodate a military staff (national or as part of a coalition from the operational or tactical level) of up to 200 people. Onboard accommodations provide similar working conditions similar to those found on a station command ashore.

Amphibious operations:


» Payload capacity: 2,650 square meters of a hangar for vehicles, cargo and 450 soldiers with levels of comfort and roominess allowing for long journeys. This ability to transport soldiers may be increased to a maximum of 700 with more basic comfort. Up to 70 vehicles or 13 MBTs or a mix of both.
» Well-deck has capacity for 4 LCU type landing craft or 2 Landing Craft Air Cushion (LCAC) or 2 Landing Catamarans (L-CAT/EDA-R). All types of vehicles (Jeeps, IFV, MBTs, APCs, Engineering), as well as soldiers, can be loaded into landing craft inside the well-deck and taken to shore.

Assault helicopter carrier:
» Below deck hangar capacities for 16 helicopters.
» 5,200 square meters flight deck to accommodate simultaneously up to 6 helicopters of all types in service with NATO. Helicopter spot at the bow can accommodate heavy helicopters (CH-53 or CH-47).
» 2 elevators for optimal helicopters operational flow management to a 1,800 square meters hangar equipped with workshops dedicated to maintenance.

Hospital ship :
Hospital facilities spread over 750 square meters:
» 2 operating rooms.
» X-ray room.
» Dental practice.
» Latest generation scanner.
» 69 hospital beds.
Hospital facilities may be significantly increased by the addition of modular shelters to provide medical support equivalent to a hospital typically found in a 30,000 inhabitants town. These hospital capacities, specifically designed to support amphibious operations, can also be harnessed for humanitarian action.
Weapons
Anti-air missiles:


2 x MBDA Simbad systems (deploying Mistral SAM)

Guns:
4 x 12.7 mm M2-HB Browning machine guns
Sensors, Electronics and Decoys
Combat Management and Information Systems:


DCNS SENIT 9
Thales SIC 21
Optronics:
HGH Vigiscan (bow)
SAGEM EOMS-NG (stern)
ASV (Automatic Sea Vision)

Radars:


2x Thales DRBN-38 navigation radars
Thales MRR-3D-NG air/surface sentry radar
Thales ARBR 21 (DR 3000S) radar warning receiver

Decoys/Countermeasures:


Euroslat SLAT torpedo decoy towed array sensor
Provisions for BMS jammers
Communications:
Link 11
Link 16
Satellite links: Inmarsat, SYRACUSE 3-A/3-B, Fleetsatcom, RITA 2G
Engines
3x Wärtsilä diesels-alternators 16 V32 (6.4 MW)
1x Wärtsilä Vaasa auxiliary diesel-alternator 18V200 (3 MW)
1x SDMO emergency diesel-alternator (800 Kw)
2x Mermaid azimuth thrusters (2 × 7 MW) with 2x 5-bladed propellers
1x Bow thruster (1,500 Kw) (2x Thrusters on the Dixmude)
Specifications
Type

Landing Helicopter Dock (LHD)

Crew

170 (accommodations for up to 700 troops)


Operators

French Navy, Russian Navy

Performance

Speed: 18+ kts
Range: 11,000 nm @ 15 kts
Endurance: 30 days

Elevators dimensions

Displacement

Propulsion

2x Mermaid azimuth thrusters

Aircraft

6 helicopter spots. Up to 16 in a hangar.

Dimensions

Length: 199 m
Breadth: 32 m
Maximum Draft: 6.2 m

Elevators capacity

Back to top