a
Naval Defense Industry News - USA
Raytheon awarded $51 million to produce new Rolling Airframe Missile (RAM Block 2)
The U.S. Navy has awarded Raytheon Company a $51.7 million contract for low rate initial production of the Rolling Airframe Missile Block 2. The contract includes options, which, if exercised, would bring the cumulative value of this contract to more than $105 million. RAM Block 2 features enhanced kinematics, an evolved radio frequency receiver, a new rocket motor, and an upgraded control and autopilot system.

"This next-generation RAM will enable U.S. and allied naval warfighters to defeat the more sophisticated threats emerging around the world today," said Rick Nelson, Raytheon Missile Systems' vice president of Naval Weapon Systems. "Through Raytheon's collaborative relationship with our German partner RAMSYS, we continue to improve and expand the capabilities of RAM."

The contract award follows a series of key milestones, including successful guided flight tests for RAM Block 2. The program is preparing for another intercept test later this year, as well as initiation of government developmental testing in support of fleet deployment.

"RAM has been fired in more than 300 flight tests with a 95 percent success rate," said Nelson. "We intend to bring the same or even greater reliability to RAM Block 2."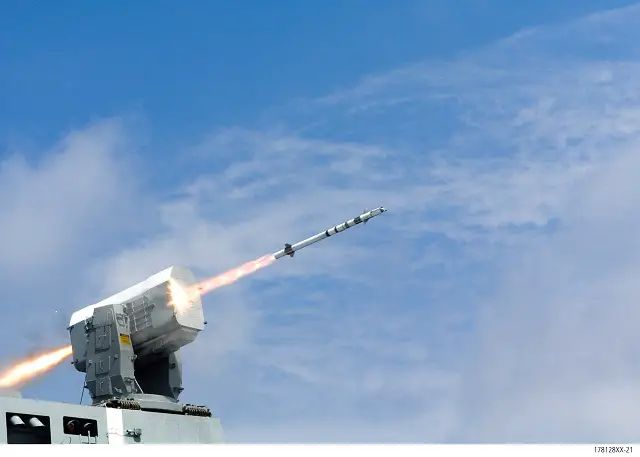 RAM Block 2 features new rocket motor and guidance improvements
(Picture: Raytheon)
About RAM

RAM is a supersonic, lightweight, quick reaction, fire-and-forget missile providing defense against anti-ship cruise missiles, helicopter and airborne threats, and hostile surface craft. For more than 35 years, the U.S. and Germany have worked together developing and maintaining RAM. Development, production work and funding are shared between Raytheon and RAMSYS.