a
Naval Forces News - Russia
Russian President Vladimir Putin announces future vessels, submarines for Russian Navy
A total of 51 surface vessels and 24 submarines, including 8 Borei-class submarines, will enter into service in the Russian Navy by 2020, Russian President Vladimir Putin said Monday while attending a ceremony to launch construction of Russia's fourth Borei-class (Project 955A) ballistic missile submarine.

"Our nuclear sea-based potential is sufficient. By 2020, it will be upgraded thanks to eight new Borei-class nuclear submarines," Putin said.

"I hope the eight submarines will be completed on time with high quality," he said.

The government will allocate more than 4.4 trillion rubles (136. 7 billion U.S. dollars) for the construction of the 51 surface warships and 24 submarines. Putin urged to speed up the building process for warships and submarines as well as the navy weaponry and equipment that would be put into service beyond 2020.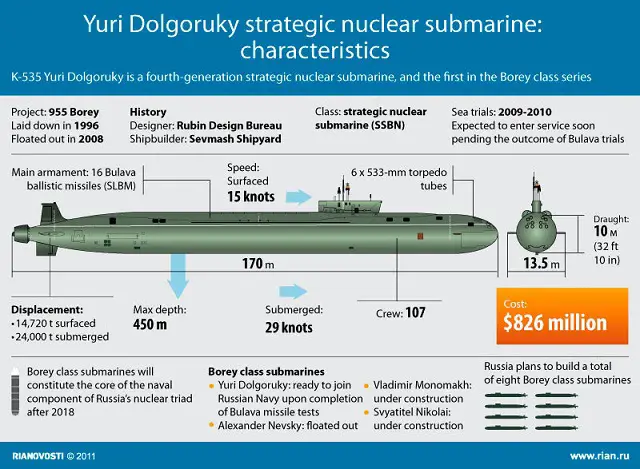 The ceremony for the boat, the Knyaz Vladimir, was held at Sevmash, Russia's largest shipyard and sole nuclear submarine maker located in the port city of Severodvinsk on the White Sea.
The Borei class is expected to become the mainstay of the Russian Navy's strategic nuclear deterrent, replacing the aging Project 941 (Typhoon class) and Project 667 class (Delta-3 and Delta-4) boats.
Three other Borei class boats are at various stages of development at Sevmash. The Yury Dolgoruky is currently undergoing sea trials, while the Alexander Nevsky and the Vladimir Monomakh are under construction
The president also stressed the significance of modernizing Russia's shipyards.
"Otherwise, they will be unable to implement the state armament program in full or they would not provide the quality needed," Putin warned.
Russia's rearmament program, which was launched in 2008, has envisaged the spending of 20 trillion rubles (about 680 billion dollars) until 2020.