a
Naval Forces News - France
French Procurement Agency with DCNS and Thales prepare the use of UAVs on naval platforms

The French Defense Procurement Agency (DGA, Direction générale de l'armement) has recently conducted successful sea trials of D2AD (Démonstration technologique d'un système d'Appontage et d'Atterrissage pour Drones), an automatic takeoff and landing system for rotary wing UAVs. D2AD is a demonstrator, designed and built by DCNS and Thales who were awarded the contract in late 2008.

About thirty takeoffs and landings were performed aboard the French Navy frigate Guépratte from late September to early October off Toulon. Very delicate maneuvers have been conducted with a high level of precision.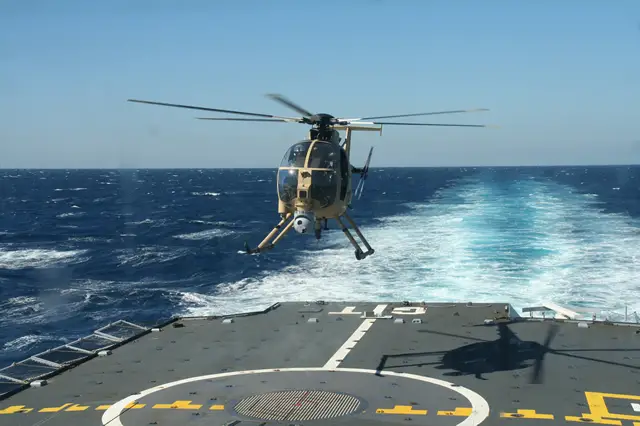 A Boeing H-6U Unmanned Little Bird rotorcraft was used to conduct trials at sea
with French Navy Frigate Guépratte (La Fayette class)
(Picture: DCNS)
This R&T study is a major milestone in the process of raising the risks of the future program of unmanned aerial system of the French Navy (SDAM - Système de Drones Aériens de la Marine). Indeed, the control of takeoff and automatic recovery of rotary wing UAVs are major technological challenges especially in such a harsh environment as the one faced by a military ship at sea.

D2AD comprises a "flight" segment composed of a beacon and a deck harpoon aboard the UAV, and a "ground" segment composed of sensors located on the ship's aviation deck, a ship motion predictor station and a guidance station of the UAV. D2AD is independent of any satellite positioning system. It is adaptable to different types of UAVs or naval platforms.