a
Focus - Naval Technology
Commonality and similarity in DAMEN SIGMA designs
SIGMA 9813 and SIGMA 10513 have 100% commonality in structure, propulsion and auxiliary systems, as the 10513 version in essence is just a lengthened version and has an extra compartment of 7.20 m by a parallel section in the amidships region. This extra compartment provides added functional spaces and some alternative accommodation spaces.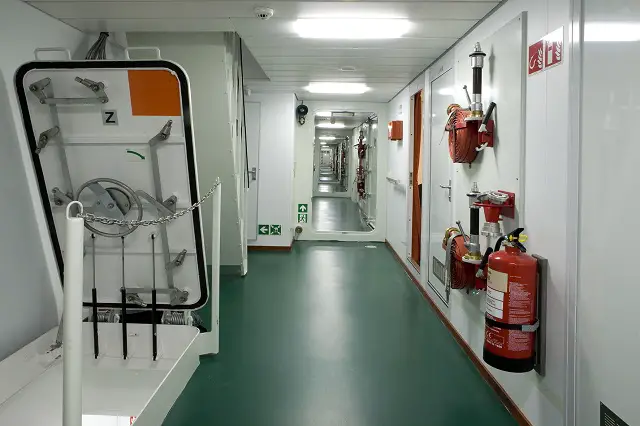 Typical commonality in SIGMA: main passage way and subdivision of compartments.
(Picture: DAMEN Schelde Naval Shipbuilding)
The SIGMA 10514 is a version which is 1.00 m wider than the SIGMA XX-13 versions with the same modular arrangement of compartments of 7.20 m in length, which allows reusing, rearranging or exchanging the contents of some compartments in the ship configuration.

The bridge and deckhouse with mast have been moved up one deck, by which a dedicated deckhouse layer has been created for CIC, communications room and additional electronic equipment spaces.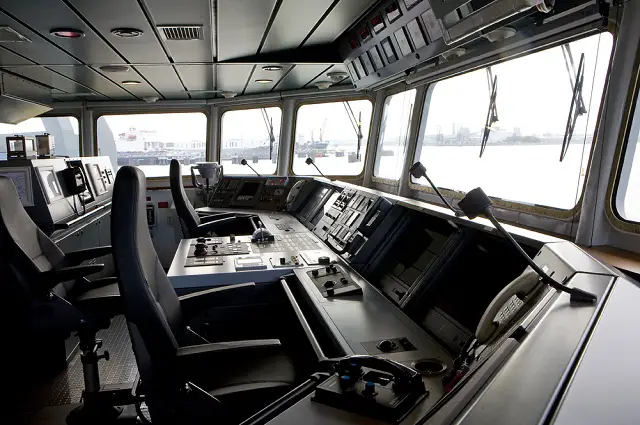 Commonality of bridge in SIGMA XX-13 series and SIGMA 10514.
(Picture: DAMEN Schelde Naval Shipbuilding)
The principle structure around the identical main central passage way is exactly the same in configuration of structural elements and stiffeners, with some modification of plate thickness to account for the larger width and displacement of the ship.

In fact, on both sides 0.50m is added to the outer part of the structure, by which all internal spaces have a larger width of 0.50 m to each side port and starboard. The extra width and space on 1-deck, 2-deck and 3-deck has been used for a larger accommodation for crew of 120 persons and additional facilities for aviation, medical and offices.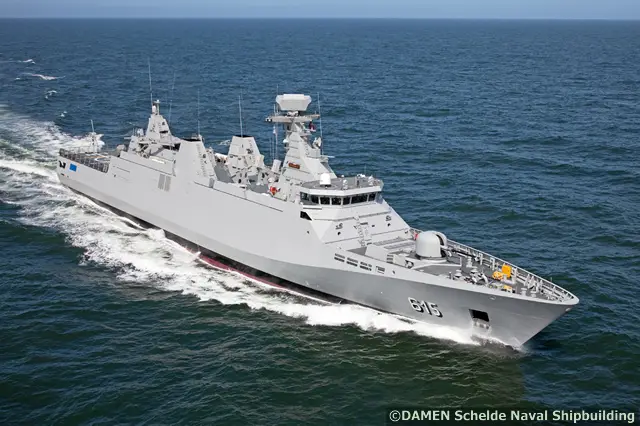 SIGMA 9813 with excellent high speed sailing qualities and extremely low vibrations.
Link to SIGMA 9813 Datasheet
Itemized design issues of commonality with SIGMA 9813/10513:

• Basic structure with 7.20 m compartments and inner centre core of hull are identical in elements and type of stiffeners; outer parts on port and starboard sides each with extra width 0.50 m.
• Main central passage way on 2-deck with access and stairways to all spaces on upper and lower decks.
• Hull form is a geosim in shaping, based on the model tested SIGMA hull form series, and adjusted to width, draught and length of the ship, with expected same performance and excellent sailing qualities with extremely low vibration levels as in the built and proven SIGMA XX-13 versions.
• Propulsion configuration is practically identical in twin machinery room with two diesel engine propulsion, but sizing of equipment to suit 2x 10MW main engine power; in addition an E-drive room aft with two electric motors connected to the gearboxes and two extra diesel generators for up to cruising speed.
• Design specifications on Classification and engineering standards for naval features such as specific functional layout of spaces, stability and water tight integrity, citadel, degaussing, noise and shock are identical as for the built SIGMA designs
• Mast principle configuration; some change of equipment and some adjustments for ease of production and accessibility.
• Aviation facilities and hangar; hangar inside extra width 1.00 m.
• Gun bay arrangement.
• MICA launch system arrangement.
• Exocet system and launcher.
• Sonar and equipment arrangement.
• Torpedo arrangement.
• Bridge layout.
• Shock resistant floors in essential operational spaces.
• Ship and machinery automation and control systems.
• Rudder and steering gear.
• HVAC system with extended layout for size of ship.
• Various supporting auxiliary systems and piping arrangements.
• Most accommodation similar in design and layout, but extra width of 0.50 m per side port and starboard.
• Arrangements of various hull outfitting and finishing equipment.

By Leon Goossens MSc, Chief Naval Architect, Damen Schelde Naval Shipbuilding
SIGMA 10513
Link to SIGMA 10513 Datasheet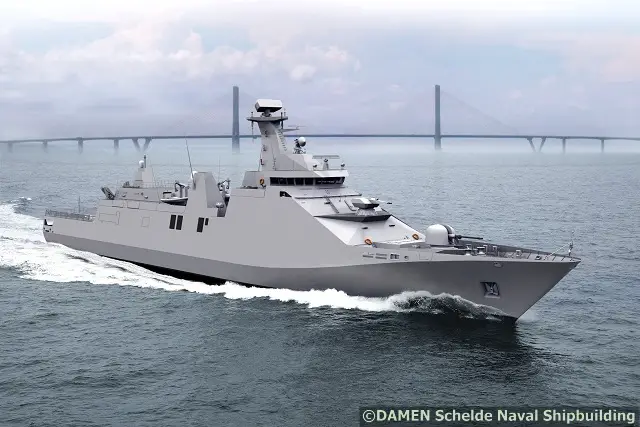 SIGMA 10514 with high level of commonality with SIGMA XX-13 built ships
Link to SIGMA 10514 Datasheet