a
Naval Forces News - Italy
Italian Navy Carlo BERGAMINI FREMM Frigate shoots her 127/64 Oto Melara Gun for the first time
On the 5th of December, the Italian First of Class Carlo BERGAMINI Frigate shot 54 cannon rounds in the waters of La Spezia Gulf.

Upon several firing sessions and qualification tests, performed at the Italian Naval Experimentation and Support Centre premises, for the first time the 127/64 Lightweight Gun System had been employed on board of a ship.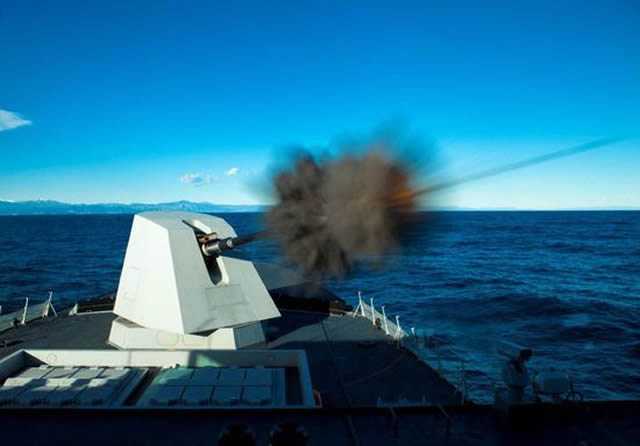 Carlo BERGAMINI Frigate's Oto Melara 127/64 Lightweight Gun System first shots
(Picture: OCCAR)
The outstanding results, achieved with these last tests and mainly aimed at assessing the structural robustness of the ship's superstructures, have also confirmed the high level of maturity of the Combat System, whose Functional Integration has recently been completed in Taranto Naval Base.
First of class Carlo BERGAMINI FREMM Frigate
(Picture: OCCAR)
Further firing tests will be executed in the next spring, whilst the first missile launch is planned to be carried out by autumn 2013.