a
Naval Forces News - Iran
Iran Announces the Development of New Types of Submarines for IRGC naval force
Iranian Defense Minister Brigadier General Ahmad Vahidi said that the country plans to equip the Islamic Revolution Guards Corps (IRGC) naval force with new submarines.

"Production of different types of submarines are on our agenda and naturally they will be delivered to the IRGC whenever they reach their final phase," Vahidi told FNA on Wednesday, adding that the ministry plans to equip the IRGC Navy with its new home-made submarines.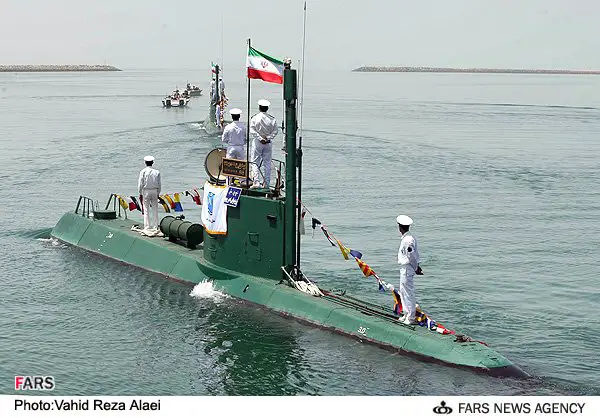 Qadir (Ghadir) class submarine
(picture: Fars News)
As regards the features and specifications of the new submarines, Vahidi said, "These submarines will be in models other than Qadir (light submarines) and their production and delivery to the IRGC are underway."

He said that Iran is producing military tools based on its doctrine of asymmetric defense.
Nahang (whale) Midget Submarine
Link to Nahang Submarine Datasheet
Last month, Iran boosted its naval power in Persian Gulf waters after a new missile launching vessel and two light submarines joined its Navy fleet.

During the ceremony attended by Iranian Navy Commander Rear Admiral Habibollah Sayyari, two Qadir-class light submarines also joined the Iranian naval fleet.

All parts of the Qadir-class submarines, including the hull, radar equipment and advanced defense systems, have been made domestically.

Iran also developped the Nahang Submarine. The Nahang (Whale) is an Iranian built diesel-electric submarine. Unveiled for the first time in 2006, its design and construction were said to have involved 220 researchers, and 1.2 million hours of scientific and industrial work.

Qadir and Nahang submarines are appropriate vessels for different naval missions, including reconnaissance and combat in territorial waters, specially in the Persian Gulf and the Strait of Hormuz which are not wide enough for the maneuvering of large warships and submarines.
From: Farsnews