a
Naval Forces News - Iran
Iran's Islamic Revolution Guard Corps (IRGC) launches naval drills in Persian Gulf's gas fields
Iran's Islamic Revolution Guard Corps (IRGC) launched a naval exercise in the Persian Gulf on Tuesday. According to the Press TV, the drills, code-named Fajr-91 (Dawn- 91) and planned to last four days, are conducted in the area of South Pars gas field in the Persian Gulf. The South Pars/North Dome field is a natural gas condensate field located in the Persian Gulf, and is the world's largest gas field shared between Iran and Qatar.

The naval exercise includes simulation of various situations involving land, land-to-sea and commando missions.

An IRGC commander was quoted as saying Tuesday that the maneuver aims at evaluating the defense capabilities of the troops stationed in the region against potential threats.

Admiral Alireza Nasseri added that the drills also focus on psychological warfare and countering techniques commonly employed by the enemies, according to the report.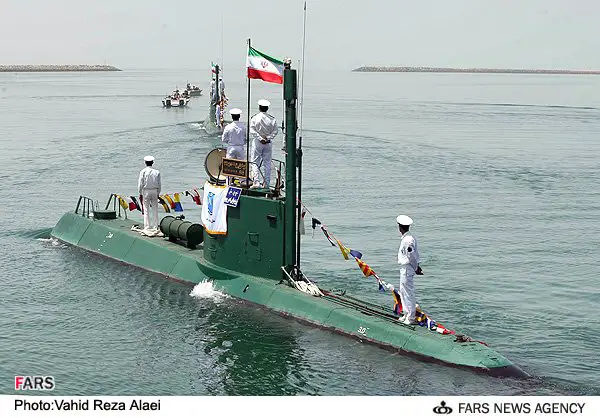 Qadir (Ghadir) class submarine
(picture: Fars News)
On Tuesday, Iranian Navy Commander Rear Admiral Habibollah Sayyari said that Iranian army will also start a six-day naval drill in the country's southern waters on Friday, semi-official Fars news agency reported.

The drill, to be held in the Strait of Hormuz, the Sea of Oman and north of the Indian Ocean, will cover an area of 1 million square kilometers, the commander was quoted as saying.

In the drill dubbed Velayat 91, or Guardianship 91, defensive and missile systems, combat vessels and submarines will be tested, said the commander, adding that naval exercises to confront the enemy's threats and to enhance the battle preparedness are among the aims of the drill.

On Dec. 24, 2011, Iran held the 10-day Velayat 90 naval drill in its southern waters, including the Persian Gulf, the Strait of Hormuz and the Sea of Oman, aiming at demonstrating the combat readiness and ability of the country's naval forces to defend its territorial waters.

Iran has test-fired long and short-range missiles during the military drill in the Strait of Hormuz. Iran's submarines also hit pre-determined targets during the exercises, using domestically- manufactured torpedoes.

On Tuesday, Sayyari said that the country has experienced a leap in the expansion of its subsurface capabilities recently, according to Fars.

"Iran's subsurface power has been enhanced to a remarkable degree in recent months," said Sayyari, adding that "Our surface and subsurface tactics, which used to be inspired by foreign tactics, have now become fully indigenized."

"We have the capability to manufacture different types of submarines and we have shown this by building Ghadir submarines and overhauling heavy submarines," he was quoted as saying.

The Ghadir-class submarine was first unveiled in 2007. The 120- ton vessel has shallow-depth performance and can conduct prolonged coastal missions.

In September, Iran's navy announced that it launched the overhauled super-heavy Tareq 901 submarine which had been repaired by Iranian experts.