a
Naval Forces News - China
Year 2013 in review: Newly-commissioned ships of PLA Navy
2013 is the harvest year of surface warships for the Navy of the Chinese People's Liberation Army (PLAN). In addition to a series of successful training of the aircraft carrier "Liaoning", a multitude of new-type destroyers and frigates successively entered into service successively. The most in number of commissioned ships among them is the Type-056 light-weight guided missile frigate (or corvette).
In February, the Type-056 corvette "Bengbu" is the first of its kind to enter into service in the East China Sea Fleet of the PLAN.
After that, the same corvettes of "Datong" and "Yingkou" were commissioned to the North China Sea Fleet and the "Meizhou", "Baise" and "Shangrao" joined the South China Sea Fleet in Sanya. On July 1, corvettes "Huizhou" and "Qinzhou" were commissioned in Hong Kong.
The Type-056 is the new-generation corvette independently researched, developed, designed and manufactured by China. It has stronger short-range air-defense anti-missile, anti-submarine and comprehensive combat capabilities. With lower production costs and multiple purposes, it is the new-generation base-defense main combat ship of the PLAN.

Link to Type 056 Corvette technical datasheet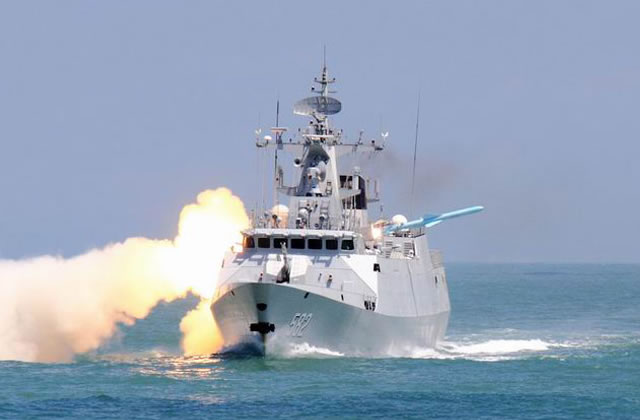 Type 056 Corvette
As China's new-generation main combat warship, the Type-054A multi-purpose fully-enclosed guided missile frigate is also eye-catching in its commissioning.
The Type-054A guided missile frigates "Weifang" and "Yueyang" entered into service respectively in the North China Sea Fleet and the South China Sea Fleet this year, which will elevate the long-range alerting and air-defense combat capabilities of the PLAN.
Type 054A Frigate
The formal commissioning of the Type-052C guided missile destroyer nicknamed "Chinese Aegis" in the East China Sea Fleet highlighted the more significant role played by China's new-type enclosed air-defense destroyers, and its ship-borne anti-submarine helicopters will further upgrade the anti-submarine combat capability of PLAN's destroyers.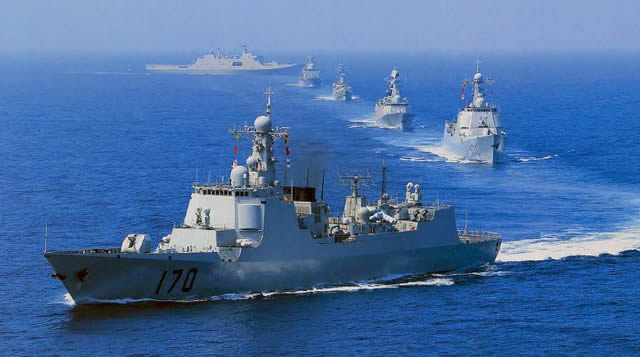 Chinese Navy Type 052C Lanzhou class Destroyer (NATO reporting name Luyang II)
Another spot light was cast on the Type-903A large-size comprehensive supply ship when the comprehensive supply ships "Taihu Lake" and "Chaohu Lake" respectively entered into service in Qingdao and Zhoushan on June 18 and September 12.
With such features of high degree of automation, easy operation, strong adaptability, fast-speed replenishment, high-efficiency support and so on, the type-903A comprehensive supply ships will mainly integrate into the maritime mobile taskforce in wartime, carry out underway and mooring replenishment for destroyers and frigates, and accompany the destroyer or frigate taskforce to perform tasks of long-distance navigation and good-will visits in peacetime.
Type 903A AOR
Finally, China also launched in 2013 a new class of large destroyers: the Type 052D. The first vessel of this new class will be commissionned in 2014.
Link to Type 052D technical datasheet