a
Focus - US Navy and Marine Nationale Carrier Strike Groups Interoperability
Pictures and videos: Interoperability between US Navy and Marine Nationale CSG in the Gulf
The current deployment in the Gulf region of two carrier strike groups (CSG): A U.S. Navy one with the nuclear-powered aircraft carrier (CVN) USS Carl Vinson a French Navy (Marine Nationale) one with CVN Charles de Gaulle is the occasion for the two allied navies to test, implement and improve their interoperability while on theatre and while actively engaged in combat missions.
US General Martin Dempsey, Chairman of the Joint Chiefs of Staff , with his French counterpart General Pierre de Villiers on-board the Charles de Gaulle. Note USS Carl Vinson in the background. French Navy Picture
On March 8th, General Martin Dempsey, Chairman of the Joint Chiefs of Staff (CJCS is the highest-ranking military officer in the United States Armed Forces) spent the day aboard the de Gaulle to highlight U.S.-French military cooperation and to discuss strategies for combating IS in Iraq.

Dempsey arrived aboard the de Gaulle on a U.S. Navy C-2A Greyhound. He met with his French counterpart, General Pierre de Villiers and other top French military officers on board the French aircraft carrier. The Charles de Gaulle and USS Carl Vinson sailed side by side during the visit. General Dempsey praised the increased US-French military cooperation around the world. The French CSG is under US command during the campaign over Iraq. "When I see behind me, sailors and pilots, American and French together, it does mean that we are building mutual trust at all levels" Dempsey declared.

For a few days Charles de Gaulle CSG will be the only CSG on location, until USS Carl Vinson is replaced by USS Theodore Roosevelt.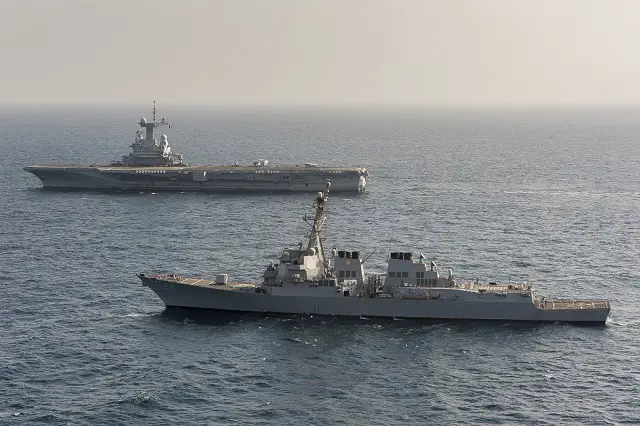 The guided-missile destroyer USS Bulkeley (DDG 84), front, sails alongside the French aircraft carrier Charles de Gaulle (R 91). (French navy photo by Chief Petty Officer Francois Marcel/Released)
Interoperabilty between the US Navy and the French Navy is demonstrated on several levels:

- The Charles de Gaulle CSG is under US command
- The two CSGs are sharing their escorts
- French Navy Rafale M conducted qualification traps and launches from the US aircraft carrier
- US Navy F-18 Hornets conducted qualification traps and launches from the French aircraft carrier
- US Navy F-18 Hornets air-refueled French Navy Rafale M and Super Etandard fighters
- A French Navy supply vessel resupplied USS Carl Vinson
- US Navy C-2A Greyhounds conducted COD (Carrier On board Delivery) missions for the Charles de Gaulle
Picture Gallery: US Navy and Marine Nationale Carrier Strike Groups Interoperability
Video: US Navy F/A-18C Hornet Carrier Qualifications with French Navy Charles de Gaulle CVN
Video: US Navy C-2A Greyhound COD with French Navy Charles de Gaulle CVN
Video: USS Carl Vinson & FS Charles de Gaulle in the Northern Arabian Gulf
Video: General Dempsey visits French Aircraft Carrier during USS Carl Vinson operations