a
Focus - Naval Version of Tor Air Defence Missile System
Russia continues to develop naval version of Tor-M2U air defense missile system
JSC IEMZ Kupol (Izhevsk Electromechanical Plant affilitated to Almaz-Antey the designer and builder of the system) in the city of Izhevsk carries on developing a naval version of the Tor surface-to-air missile (SAM) system, expert Vladimir Tuchkov writes in an article published by the Svobodnaya Pressa news agency.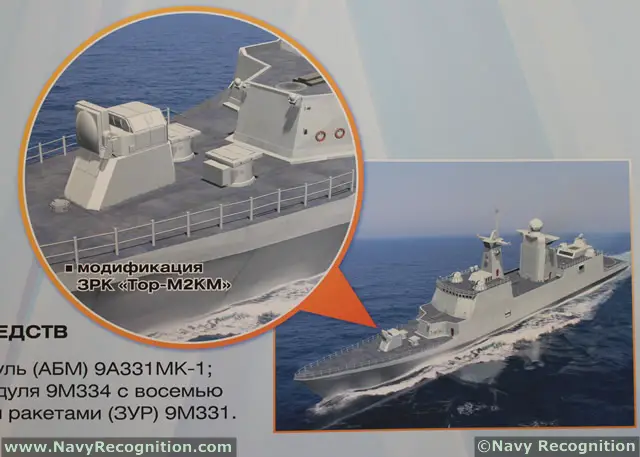 Naval version of Tor-M2 as shown by Almaz-Antey during IMDS 2013 naval defence exhibition
The Tor SAM system entered production in Izhevsk in the early 1980s. As more advanced electronic components emerged and engineering thought progressed, new versions started appearing in keeping with the times. At present, Kupol makes the latest version of the land-based Tor - the Tor-M2U that started fielding with combat units recently enough, in 2012, with its full-rate production launched last year. Kupol Director General Fanil Ziyatdinov says the plant will soon kick off the production of a naval version designed to succeed the Kinzhal (NATO reporting name: SA-N-9 Gauntlet) SAM and Kortik SAM/AAA (antiaircraft artillery) (SA-N-11 Grison) systems, both accepted by the Navy for service in 1989.

Now, NIEMI (Electro-Mechanical Research Institute) is running the relevant development work due to finish in 2017 or 2018. Hence, the production will begin after a year-long delay, i.e. not later than 2019.

The TOR-M2U is an upgraded version of the TOR-M2 short-range air defense missile system. Picture via armyrecognition.com
The land-based Tor-M2U being modified for shipboard application comprises a tracked launcher, a transporter-loader and a maintenance vehicle - the latter two are on wheeled chassis.

The latest version's key feature is its ability to down stealth aircraft. It also uses a more sophisticated SAM from the Fakel Design Bureau - the 9M331 - and features enhanced immunity to electronic countermeasures (ECM).

The system has the full automatic operating mode. In this mode, its all-round surveillance radar scans airspace. If targets are detected, the IFF responder identifies them as either friend or foe. In this case, the microwave phased-array tracking radar kicks in. Since its beam is steered electronically (i.e. virtually instantly), rather than mechanically, the reaction time is minimal.

The Tor-M2U's missile has radio command guidance, with the fuse having both the impact and proximity modes. The SAM withstands 30 g and eliminates targets jinking at 12 g. The system may acquire up to 48 threats, simultaneously tracking eight of them and engaging four.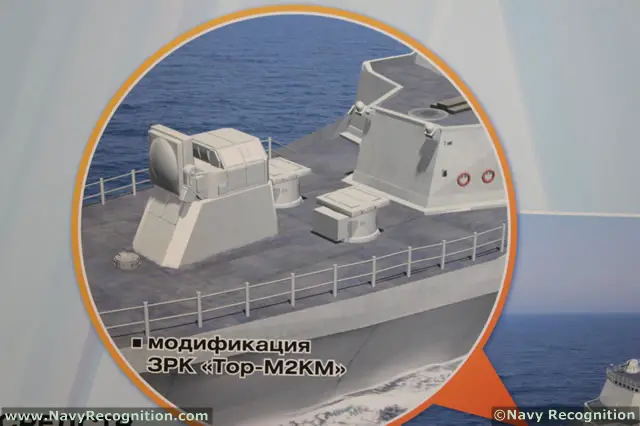 Naval version of Tor-M2 as shown by Almaz-Antey during IMDS 2013 naval defence exhibition
The Kinzhal's ammunition load is far bigger, because the Kinzhal equips large combatants displacing in excess of 1,000 tons. They can accommodate over 10 Tor modules, each of which packing eight missiles. For instance, the Admiral Kuznetsov aircraft carrier has 24 modules like that. Clearly, the Tor's naval version will have enough SAMs, because on the high seas one cannot expect a transporter-loader to bring the reloads on tap.

The Kortik SAM/AAA system was developed by KBP (Instrument Design Bureau) in Tula that had made an impressive progress in artillery fighting modules. Therefore, the system turned out to be not quite 'symmetrical', because its two six-barrel automatic AA guns capable of letting off 10,000 rd/min. are more sophisticated in engineering terms than the SAM effective at an altitude similar to that of a man-portable air defense system.

In this connection, replacing the Kortik with an advanced system being developed by NIEMI seems to be quite reasonable, and Kupol's plans are quite feasible here. As to the replacement of the Kinzhal, the two systems do not differ that much in performance terms. Therefore, the decision-makers will consider both their technical and economic parameters, expert Vladimir Tuchkov writes in his article with the Svobodnaya Pressa news agency.

The Tor-M2 SAM system is a new-generation SHORAD weapon of the Tor family. It designed to defend key military and administrative installations against attacks of fixed-wing and rotary-wing aircraft, cruise and guided missiles, smart bombs, including glide ones, and unmanned aerial vehicles by day and at night, in all weather and in countermeasures-heavy environment. The Tor-M2's simultaneous acquisition capability exceeds 40 targets. The system prioritizes and tracks them and then engages four of them with four missiles launched in salvo. Its SAM was developed specifically to intercept small agile targets, and this affords the system a considerable advantage over its foreign-made peers.



© Copyright 2016 TASS. All rights reserved. This material may not be published, broadcast, rewritten or redistributed.