a
Focus - Combat Fleets of the World 2016
Latest Edition of "Combat Fleets of the World" Naval Reference Book Now Available
The last (2016 edition) of Combat Fleets of the World (Flottes de Combat in French) is now available worldwide. It is one of the most complete and comprehensive reference book of its kind with 1450 pages and over 6,000 pictures, technical drawings and illustrations. A "must have" book for all navy staff, sailors, diplomats, naval engineers, journalits, historians or shiplovers...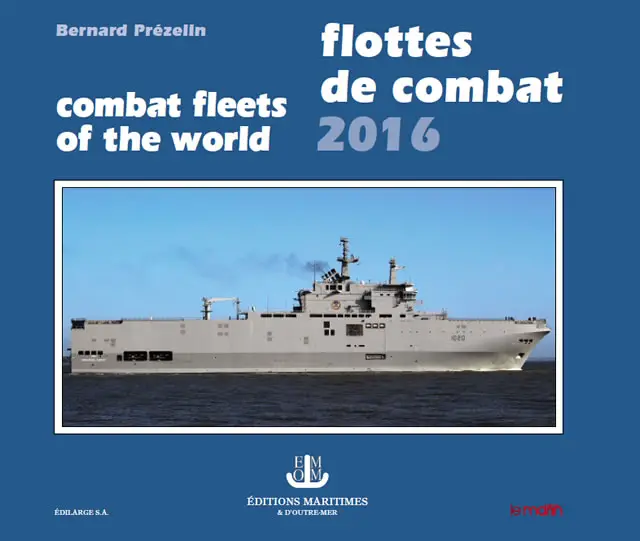 Its author,
Bernard Prézelin, is an experienced former French Navy officer, French Navy reservist and former navy intelligence expert at the DRM (French equivalent to the Defense Intelligence Agency DIA).

The top eight navies as of October 2016 are: The US Navy, the Chinese Navy, the Russian Navy, the British Royal Navy, the JMSDF, the Indian Navy, the French Navy and the Republic of Korea Navy.

According to Prézelin, the expansion of the navies in Asia is unprecedented, four of which are now among the top eight in the world (China, Japan, India and South Korea). The increase of the Chinese Navy (PLAN) is very significant with nearly 80 vessels commissioned during the last 48 months. It is now the second largest navy in terms of tonnage. The global maritime ambitions of the PLAN is reflected in particular by the reinforcement of the support fleet.

Combat Fleets of the World is written in French language but comes with an english reader's guide that makes it easy for readers not fluent in French to use and consult the book.

A PDF preview is available at this link.

Combat Fleets of the World, 2016 edition, may be ordered at this link.