---
Mil.Press Flotprom online publication published a regular annual rating of Russian and US Navy capabilities. Although 2018 was generally productive for the Russian Navy which received seven warships, its position against the US Navy deteriorated. The publication said Russian Navy capabilities comprised 45 percent of the US Navy in 2018. A year before they comprised 47% and in 2016 - 45, in 2015 - 44, in 2014 -52, in 2013 - 45, and in 2012 - 42.
---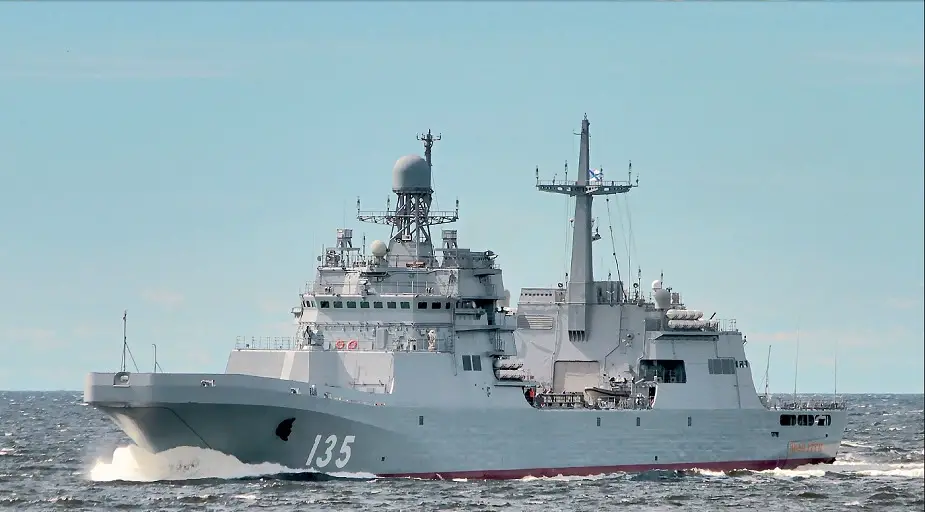 Landing ship of project Project 11711 Ivan Gren during trials in the Baltic (Picture source : Alex Akentyev)
---
Last year was generally successful for the national shipbuilding industry against 2017 when the Navy received only two warships and an icebreaker. In April 2018, the Northern fleet received the lead Elbrus supply vessel of project 23120. On June 1, the Vyshny Volochek corvette of project 21631 became operational in the Black Sea fleet. Later in the month, St. Andrew's flag was hoisted on the lead Ivan Gren big amphibious assault ship of project 11711 and on the Ivan Khurs communications vessel of project 18280. A month later, the Navy received the lead Admiral Gorshkov guided missile frigate of project 22350. In December 2018, the Orekhovo-Zuevo corvette of project 21631, the Vasily Bykov lead corvette of project 22160, the Gromky corvette of project 20380 and the lead Karakurt-class Mytishchy corvette of project 22800 joined the Navy.
The buildup was expected to improve the Russian Navy positons in the rating, but they fell 2 percent because most of the new warships, except for the Admiral Gorshkov, were corvettes and brown-water warships. In the meantime, US shipbuilders produced two Arleigh Burke-class destroyers last year and two Virginia-class nuclear submarines.
This year is unlikely to change the trend. Big orders of the Navy comprise the second Admiral Kasatonov frigate of project 22350 and the first Kazan upgraded SSGN of project 885M. The rest are corvettes and brown-water ships.
The US shipbuilders annually produce 2-3 Arleigh Burke-class destroyers and the same number of Virginia-class submarines. Besides, in 2019 the US Navy received the second Zumwalt-class destroyer, the Michael Monsoor. There is also the US program to build LCS-class brown-water warships which produces at least three units a year.
The publication has been studying the strength of the world navies for over ten years. Combat capabilities mean a generalized parity indicator showing the ratio of the strength and combat might of the Russian Navy against the biggest world navy of the United States. China has been reinforcing its navy of late, but Beijing keeps secret its shipbuilding program which makes it impossible to objectively estimate combat capabilities of its navy.
FlotProm counts operational warships without those in reserve or in a long (over 3 years) overhaul. Conditional "weight" coefficients have been designed to compare the Russian and US navies. Only open data are used.
---
© Copyright 2019 TASS. All rights reserved. This material may not be published, broadcast, rewritten or redistributed.
---