a
Focus - Naval Technology
Q&A with BAE Systems on Type 26 Frigate Design Update at Euronaval 2012
By Xavier Vavasseur

During Euronaval 2012 in October last year, BAE Systems Maritime – Naval Ships showcased a Type 26 "Global Combat Ship" frigate model with a slightly modified design compared to the big design update unveiled during DSA 2012 in April last year. We asked a few questions to BAE Systems on the reasons behind the latest changes to the design.
Type 26 Frigate design update unveiled during DSA 2012, in April last year
Navy Recognition: Can you give us a general update on the status of the program as of now ?
BAE Systems: The programme to develop the Type 26 Global Combat Ship for the Royal Navy is well underway. A joint team of around 380 engineers from BAE Systems, wider UK industry and UK Ministry of Defence working to develop a detailed specification and support solution for the ship ready for manufacture. The MOD has endorsed the ship's basic capabilities (Main Gate 1) and current planning assumptions hold the main investment decision point (known as Main Gate 2) at around the middle of this decade and assume steel will be cut at the end of 2015. Type 26 is due to enter service as soon as possible after 2020 and will be one of the most advanced vessels in the Royal Navy's fleet.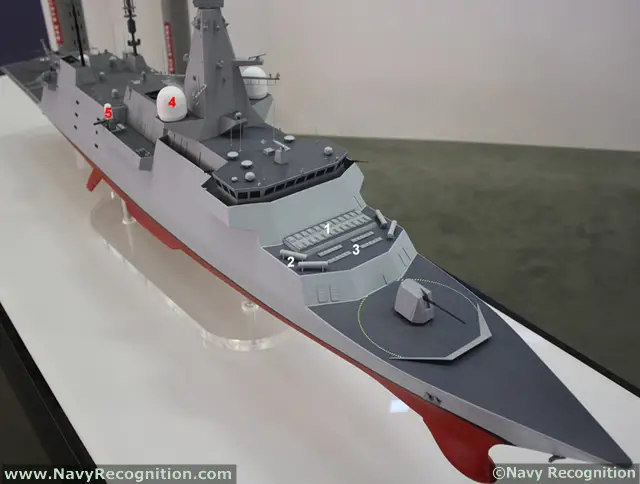 Figure 1 - Type 26 Frigate as showcased during Euronaval 2012, in late October last year
Navy Recognition: The Phalanx Close In Weapon Systems (CIWS) located originally at the bow and on top of the helicopter hangar have been moved to the port and starboard sides in the middle section of the ship (5) (see Figure 1): Can you provide details on the reasons for such a move?
BAE Systems: The Phalanx were relocated following a detailed review of the topside arrangement in order to develop a more integrated solution. The issues considered during this review included operability, weapon arcs, aerial and antenna performance, electromagnetic interference, airwake and safety.

Navy Recognition: Can you tell us what type of VLS is located in (1) and what type of missiles it may accommodate (Aster, TLAM, MdCN etc…) The same question for the VLS in (3)
BAE Systems: The Global Combat Ship is designed to carry either Mk41 Strike or Aster A70 VLS in location 1. Location 3 is for Sea Ceptor.

The Mk41 VLS (Vertical Launch System) is made by Raytheon. It is available in three version. The Strike version is the tallest (30 feet / 9 meters) and can accommodate the widest variety of missiles including Tomahawk land attack cruise missiles.

A70 SYLVER (SYSteme de Lancement VERticale, or vertical launch system in French) is made by DCNS. It is the tallest cell in the SYLVER family (at about 23 feet / 7 meters) and was specifically designed to launch MBDA's Naval Scalp land attack cruise missile (also known as MdCN for Missile de Croisière Naval).

MBDA' Sea Ceptor, also known as CAMM (Common Anti-Air Modular Missile) is the future surface to air missile that will be fitted on Type 26.

Navy Recognition: What are the "tubes" located in (2)?
BAE Systems: Tubes in location 2 are for EW Decoy Outfit DLF.

The Irvin-GQ Naval Decoy is a rapid response, inflatable, passive radio frequency (RF), floating countermeasure system that is ship deployed and effective against radar homing missiles and surveillance radar.

Navy Recognition: The radome in (4) look significantly larger when compared to the original CGI.
What are they?
BAE System: Mil Satcom Antenna in dome (location 4), upgrade in Antenna size (SCOT 5 - same system to be fitted to QEC).

The SCOT family of naval SHF Satellite Communications Terminals is the product of 35 years of evolutionary development. Eleven navies have chosen SCOT, and over 200 terminals are in service, making it the most widely fitted naval SHF terminal in the world. SCOT has also been installed in more than 40 different warship classes, from corvettes to aircraft carriers.
The new X-Band maritime terminal (SCOT 5) and its smaller variant mini-SCOT, provide highly reliable communications links in even the most demanding situations. SCOT terminals also support all standard communications services (such as voice, data, fax, video) and transmission modes ( IP, Serial, ATM, DVB).

Navy Recognition: Has the main mast design been slightly tweaked too?
BAE Systems: Mast design changed as a result of the topsides review.

Navy Recognition: Can you give us details on the propulsion system that the Type 26 /GCS is going to use? Is it still planned to be CODLOG or has this changed?
BAE Systems: The answer is yes - the Global Combat Ship will indeed use CODLOG.

The Type 26 propulsion system will consist in two electric motors, four high speed diesel generators and a gas turbine direct drive in a CODLOG configuration. In a "CObined Diesel eLectric Or Gas turbine" configuration, electric motors are employed for quiet drive forward and astern operation. The electrical power generation is provided by the four diesel generators. The gas turbine is used when high speeds are required.
Type 26 Frigate as showcased during Euronaval 2012, in late October last year
For additional details on the Type 26 latest design changes, head over to
UK Armed Forces Commentary blog
who has put together a comprehensive analysis.
Check out our
Type 26 Global Combat Ship technical datasheet
to learn more on the future Royal Navy frigate.
Navy Recognition will be attending several naval and defense exhibitions this year (Navdex, LIMA, LAAD, DSEi for example) and we will make sure to report any new design changes we may find while visiting BAE Systems' stand at those venues.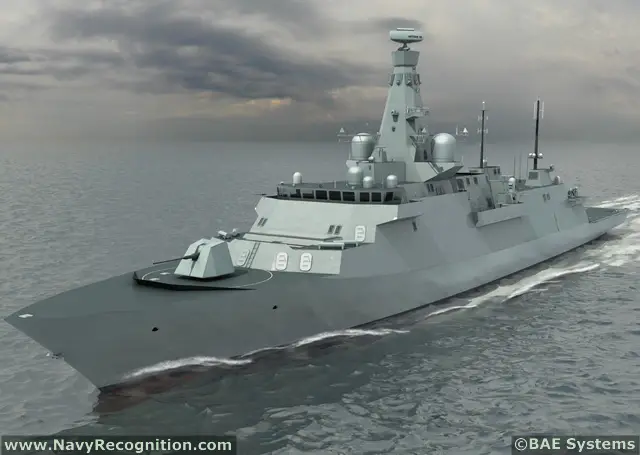 BAE Systems Type 26 Frigate Global Combat Ship
Link to Type 26 Datasheet