---
The Northern fleet will hold a large-scale experimental exercise. It will engage the latest warships - the Vasily Bykov corvette of project 22160, the Odintsovo (22800), and the Zeleny Dol (21631). The former carries container arms for various missions. Experts believe the arms will be tested in northern seas while project 22800 and 21631 corvettes will fire missiles there, the Izvestia daily writes.
Follow Navy Recognition on Google News at this link
---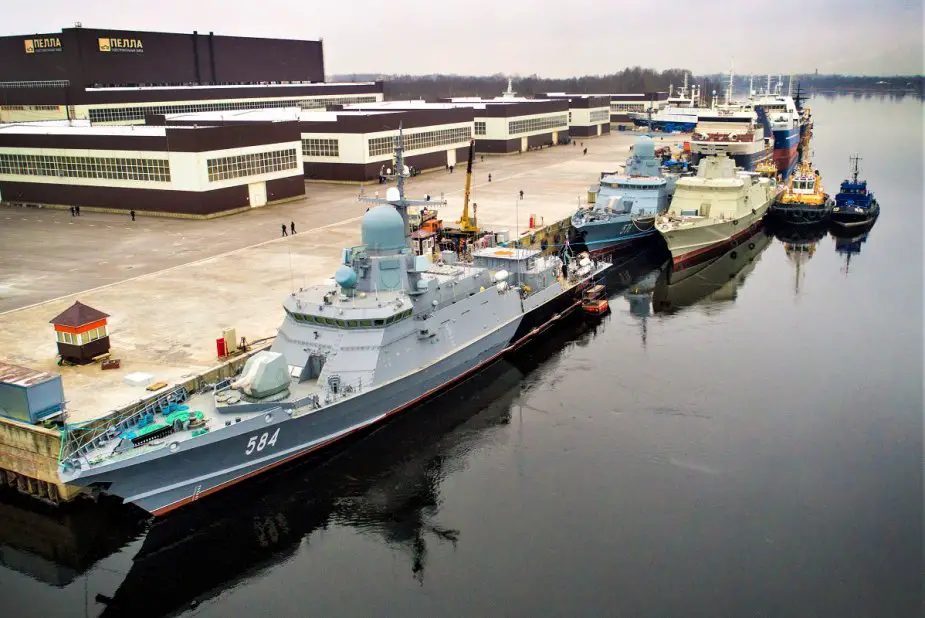 Project 22800 corvettes being built at the Pella shipyard. In the foreground is the "Odintsovo" which is being prepared to start sea trials. (Picture source: Ministry of Defense Of Russia)
---
The latest Russian corvettes will for the first time jointly test missile and antiaircraft guns in Polar latitudes, Defense Ministry sources said. For the Odintsovo, the exercise will be a stage of acceptance trials.
The industry has likely created container arms which have been designed of late, expert Dmitry Boltenkov believes. "The Vasily Bykov has long been waiting for container arms which are likely to be tested by the Northern fleet. Otherwise, there is no reason for the corvette to sail to the White Sea," he said.
The Zeleny Dol and the Odintsovo are likely to test missiles, the expert said. "They can fire antiship Onix missiles. They are the carriers of the missiles, but have not fired them yet. It is impossible to test long-range missiles in the Baltic Sea. The trials can be held at ranges in the White Sea," Boltenkov said.
Trials of new modular arms are scheduled in the Northern fleet in 2020. They are carried in ordinary 20 and 40-ft sea containers on deck or under it. The arms are plugged into power supplies and integrated into the single control system.
The containers can carry various arms depending on the mission. Sonar and torpedoes are fit for antisubmarine defense. Another option includes antiship and cruise missiles.
The Navy is building several series of warships designed for container arms. They are mostly project 22160 corvettes. The Vasily Bykov lead ship has been operational since late 2018.
The artillery arms include 76mm automatic gun. Modules for Kalibr missiles and Redut antiaircraft guns are being designed for project 22160. A module can be carried by sea or air and installed on deck in hours.
The Odintsovo corvette which is to test new arms in the Northern fleet is the third warship of project 22800. The corvettes with a displacement of 800 tons carry Kalibr cruise missiles, 76.2mm artillery gun AK-176MA, and can be armed with Onix antiship missiles, if necessary. Project 22800 corvettes are built with stealth technologies and armed with modern combat controls, detection, guidance and communication means.
The Zeleny Dol corvette belongs to project 21631. It has a displacement of 850 tons and has to destroy sea targets in the coastal zone. The corvette carries eight launchers for Kalibr cruise missiles and artillery arms. The small warship has a considerable reconnaissance potential and can be included into the so-called reconnaissance-strike and reconnaissance-fire forces, the Izvestia said.
---
© Copyright 2020 TASS Navy Recognition. All rights reserved. This material may not be published, broadcast, rewritten or redistributed.
---