Project 877EKM SSK B-806 Dmitrov to Re-Join Baltic Fleet in 2017 After Upgrade
| | |
| --- | --- |
| | The diesel-electrical submarine Dmitrov of project 877 which is undergoing maintenance at Kronshtadt Shipyard will become operational in the Russian Navy in 2017. The submarine will have all life-support systems renewed and repaired and will continue to operate in the Baltic fleet, the press service of the Russian defense ministry said. |
a
Naval Forces News - Russia
Project 877EKM SSK B-806 Dmitrov to Re-Join Baltic Fleet in 2017 After Upgrade
The diesel-electrical submarine Dmitrov of project 877 which is undergoing maintenance at Kronshtadt Shipyard will become operational in the Russian Navy in 2017. The submarine will have all life-support systems renewed and repaired and will continue to operate in the Baltic fleet, the press service of the Russian defense ministry said.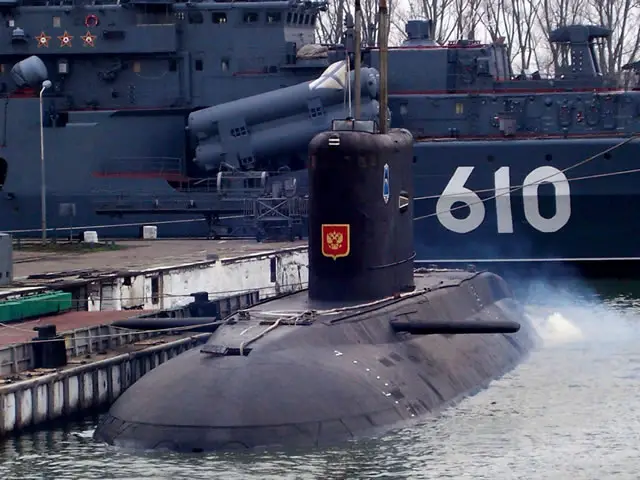 Project 877-EKM Diesel Electric Submarine (SSK) B-806 'Dmitrov
' of the Russian Baltic Fleet.

Two other diesel-electrical submarines of project 877 of the Northern fleet will undergo maintenance at military shipyards in the near future. The repairs and technical readiness maintenance of project 877 submarines are done according to the plans of the Navy main command to preserve the potential of non-nuclear component of the submarine force.

Submarines of project 877 were developed by the Rubin Design Bureau of the United Shipbuilding Corporation. They are designated to fight adversary submarines and warships, as well as to defend naval bases, coastal and sea communications, and engage in reconnaissance and patrolling activities. Full displacement of the submarine exceeds 3000 tons, the length is 72.6 meters, underwater speed is 17 knots, depth of submersion is 300 meters, the crew comprises 57 men and autonomous navigation time is 45 days. Armaments include six torpedo launcher tubes of 553-mm caliber.
© Copyright 2017 TASS. All rights reserved. This material may not be published, broadcast, rewritten or redistributed.