a
Euronaval 2012 - Show Daily News
BAE Systems will be exhibiting at Euronaval 2012, 22 to 26 October at the Paris – Le Bourget
BAE Systems will be exhibiting at the Euronaval 2012, held from 22 to 26 October at the Paris – Le Bourget exhibition centre. The show is organised under the joint patronage of the French Ministry of Defence and Secretariat of State for the Sea, and is one of the most important events on the naval and maritime industry calendar.

Euronaval has traditionally covered missions ranging from naval sovereignty to state actions at sea and maritime safety & security, including the enforcement of public order at sea, marine, maritime & fisheries policing and maritime & coastal surveillance.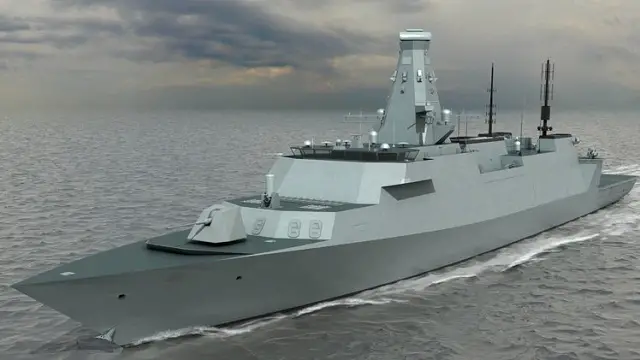 BAE Systems Type 26 Global Combat Ship
(Picture: BAE Systems)
Euronaval is also a leading event for naval drone (UXV) manufacturers and satellite applications, including communications, navigation, weather, defence and security.

The programme will include debates on the safe and secure use of the seas for civil and military purposes.
Bofors 57 Mk3 gun system (US denomination 57 mm Mk110)
(Picture: BAE Systems)
BAE Systems will be represented by Land & Armaments and Maritime.
BAE Systems, with a stand presence of just over 100 sq m, will exhibit:
» Mk38 naval gun
»
40Mk4 naval gun
» Lemur sensor turret
» 57Mk3 naval gun
» Mk45 Mod 4
» LRLAP round
» 3P Ammunition
»
Global Combat Ship
» Offshore Patrol vessel
» Maritime ICAP
» Artisan Radar