a
EURONAVAL 2014 Show Daily - DAMEN LST 100
Damen increases its Landing Ship Transport range by introducing the LST 100
The 24th Euronaval exhibition, world greatest Naval Defence & Maritime Exhibition & Conference, was chosen by Dutch manufacturer Damen Shipyards to officially increase its Landing Ship Transport vessels range by showcasing the new mid-size LST100.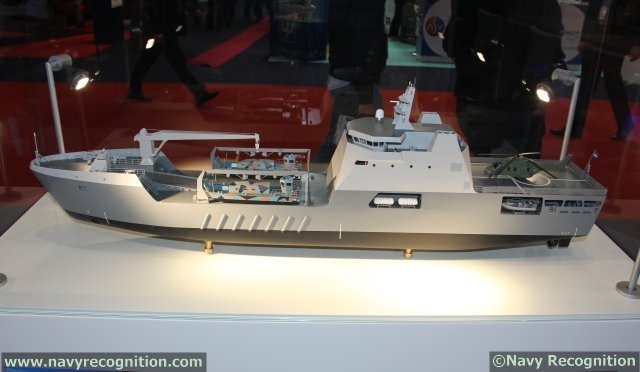 Damen's new LST 100 Landing Ship Transport at Euronaval 2014
The Damen's LST vessels range in length from 80m to 120m overall. All LST family has aft deckhouse, a protected internal cargo deck and flexible, and a helicopter dek aft of the deckhouse. LST range operation profile comprises includes amphibious operations, transport & logistics, maritime security operations, humanitarian aid & disaster relief, search & rescue support, operation command, etc. Damen Landing Ships include various essential design features, such as a design optimised for minimum wading depths. LST family's bow and stern ramps are designed for handling vehicles up to 70 tonnes. The vessels have high degree of survivability by means of double hull arrangement.
The new LST100 meets the existing gap between Damen's LST80 and LST120. The vessel is equipped with adequate accomodations for 27 troops/special personnel. With a length of 100m, a beam of 14m and a draught of 2.7-3.9m, the LST100 is spacious enough to carry up to 235 troops, 2 Landing Craft (Davit) and 1 medium-size helicopter. Its optimised hull form and propulsion for low fuel consumption allows a max. range of 4,000nm (7,400km) and a max. speed of 16 knot (30km/h).