a
UDT 2015 - RTsys
At UDT 2015 RTsys Presents Underwater Portable Target for ASW Training
The 28th Undersea Defence Technology (UDT) exhibition and conference is the occasion for French company RTsys to present its Autonomous Portable Vehicle Recoverable Target (APV-RT) for Anti-Submarine Warfare (ASW) training. APV-RT is an autonomous, recoverable, acoustic and magnetic target dedicated to ASW training. It is useable for all kinds of platforms such as surface ships, submarines, helicopters and ASW aircraft.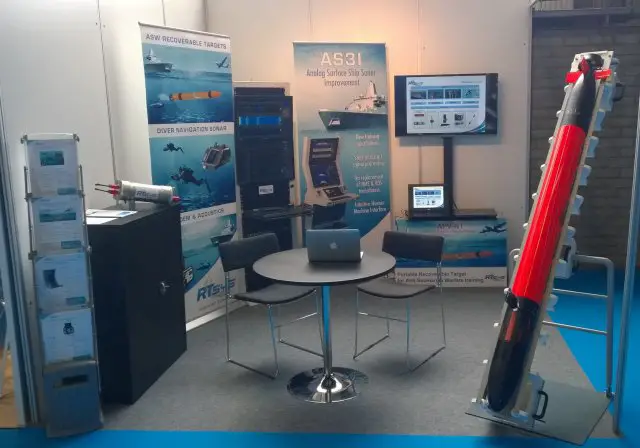 APV-RT for Anti-Submarine Warfare (ASW) training on RTsys stand at UDT 2015
Navigation and multiple types of training modes such as passive, active and combined acoustics can be programmed. The target can also operate in Magnetic Anomaly Detection mode with a specific antenna plugged into the target. APV-RT is easy to operate and recover and is reconfigurable in one hour. APV-RT can be used in ASW, MAD and torpedo trainings.

The mission can be programmed either by:
- Configurable segments (speed, depth, route, timeout)
- Way points (latitude, longitude, speed, depth)

The system is equipped with INS, GPS, DVL (Doppler Velocity Log) and pressure navigation sensors.

Down to 15 meters depth the target can operate in magnetic mode by automatically extracting MAD cable and sending/receiving signals. APV-RT can also operate in magnetic mode by Acoustic External Command executed by Active Maypole (DICASS).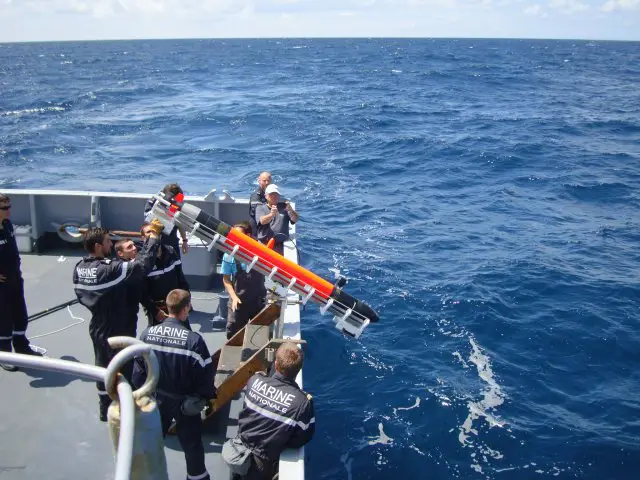 APV-RT has been recently introduced in French Navy
Autonomy is 1 hour at 15 knots and up to 8 hours at 4 knots. In one hour it is possible to change the rechargeable battery, to download encrypted data on a rugged computer device and to reprogram the system.
APV-RT can be launched from a surface ship and technical studies are underway for helicopter-launch capability. APV-RT is in service in French Navy and several navies already showed their interested for this ASW training target. APV-RT is one of the smaller and more affordable equipment in its class with one of the best price/performance ratio.