a
Balt Military Expo 2016 Online Show Daily - Remontowa
Remontowa Marine Design Unveiled Several New Projects to Answer Polish Navy Needs
At the 14th Baltic Military Fair BALT-MILITARY-EXPO 2016 held in June in Gdansk, Poland, Remontowa Marine Design was showcasing several ongoing projects it is currently developing in order to answer future Polish navy needs such as the Batlyk, Supply or Magneto programs. It also unveiled a new design: A Submarine Rescue Ship for the future Orka submarines.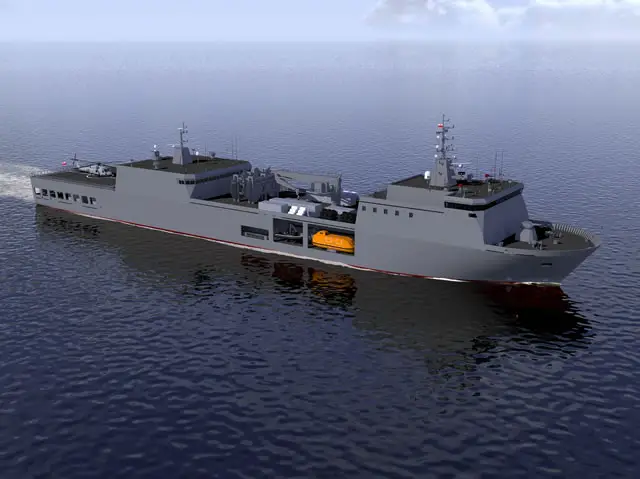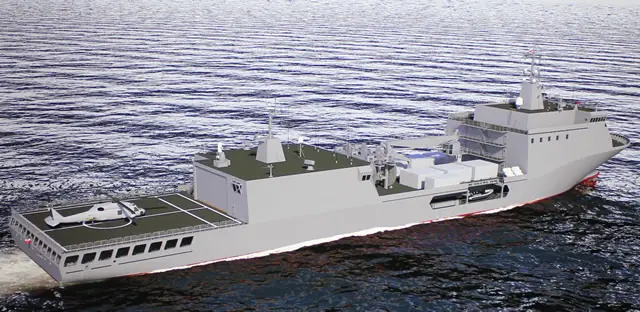 Conceptual images: Remontowa Logistic Support Ship codename OWL "Baltyk"

During MSPO exhibition last year, Remontowa unveiled the OWL Baltyk. It is developed to answer a future Polish Navy need for ocean going support vessel(s). The main characteristics of the vessel are the following: Length over all 139.6 meters; Maximum Breadth 24 meters; Displacement of 14,000 tons.

Talking to Navy Recognition, Remontowa Shipbuilding Director of Navy Projects stressed that the vessel was still at project phase (with two designs being studied as seen above) and the images conceptual, but based on the computer generated images (CGI), OWL "Baltyk" is fitted with a Rheinmetall Millennium 35mm CIWS as main gun at the bow, 4x Rheinmetall MASS decoy systems (2 on top of the bridge, 2 on top of the helicopter hangar), 4x 12.7mm machine gun mounts (same location), 1x Phalanx CIWS on top of the helicopter hangar. The project features a large helicopter deck and hangar, a large crane and space to store close to 12 standard iso containers. One of the designs features an additional davit to store and deploy a large Solas life boat with capacity for over 100 people (in addition to the two present for RHIBs).

Conceptual image: Replenishment Tanker (Zbiornikowiec codename "Supply")

Also unveiled at MSPO 2015 was a replenishment tanker (Zbiornikowiec codename "Supply"). This project has a length overall of 106 meters, a breadth of 18 meters for a displacement of 5,700 tons.

This design could be pitched by Remontowa Shipbuilding to answer a future Polish Ministry of National Defence need to replace the existing ORP Baltyk, a 2,900 tons fleet tanker which was launched in 1988.

As for the Logistic Support Ship project above, the fleet tanker is still at project phase and the images conceptual, but based on the CGI, this replenishment tanker is fitted with: a Rheinmetall Millennium 35mm CIWS as main gun at the bow, 2x Rheinmetall MASS decoy systems on top of the bridge, 4x machine gun mounts, a helicopter deck, a large crane, space to store 8 standard iso containers and 2 RHIBs.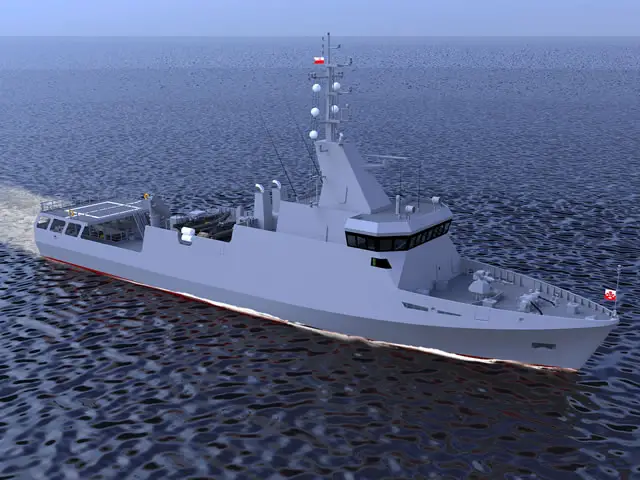 Conceptual image: Degaussing Ship codename "Magneto"

The Degaussing Ship codename "Magneto" should be based on the same hull of the Kormoran II mine counter measure vessel which was very recently launched by Remontowa.

Based on the image, the Magneto project vessel is fitted with the same turret as the Kormoran II vessel (a ), 2x machine gun mounts, 2x RHIBs stored behind the bridge and a third one on ramp at the stern. There is a small platform for VERTREP (vertical replenishment) and maybe deploying and recovering VTOL UAVs.

Magneto has a length of 59 meters, breadth of 11.3 meters for a displacement of 930 tons.
Conceptual image: "Ratownik" Submarine Rescue Ship. Image by Remontowa Marine Design

At Balt Military Expo 2016, Remontowa Marine Design unveiled its Submarine Rescue Ship intended to answer the future "Ratownik" (Polish word for "Rescuer") program which calls for two multi-function rescue vessels capable of supporting and rescuing not just surface ships but submarines as well. The Polish Navy launched a tender for two diesel electric submarines (Orka program) and these "Ratownik" vessels should be procured when construction of the future Polish Navy submarines have started.

According to company representtatives, the ship will be designed to operate during SAR missions, as well as securing rescue operations for submarines. This will include: participation in the operations of search and rescue, searching, location and extraction of sunken military equipment with a total weight up to 80 tones, providing assistance in the fight against fire, pull out of the shallows and towing.

The ship is designated to operate in all sea areas with the exception of the Arctic zone of constant freezing, ensuring the ability to maintain a stable position during SAR operations and underwater works - up to sea state 6 and wave heights of 5 m. The ship will have ice class L1. The ship should have the ability to maneuver at low speeds and mooring operations, with a wind force up to 30 knots and currents up to 3 knots, without the help of tugboats and other vessels.

It is based on THV Galatea, a lighthouse tender operated by Trinity House, the body responsible for the operation of lighthouses and marine navigation aids around the coasts of England, Wales and the Channel Islands.

The Submarine Recuse Ship has a length of 105.3 meters, breadth of 18 meters for a displacement of 6,000 tons.