a
DIMDEX 2016 Online Show Daily - BAE Systems
BAE Systems will be exhibiting at Dimdex 2016, 29 to 31 March

Showcasing a wide range of products across air, land and sea, BAE Systems is, once again, pleased to be supporting DIMDEX, the international defence and maritime exhibition being held at the Qatar National Convention Centre in Doha from 29-31 March 2016.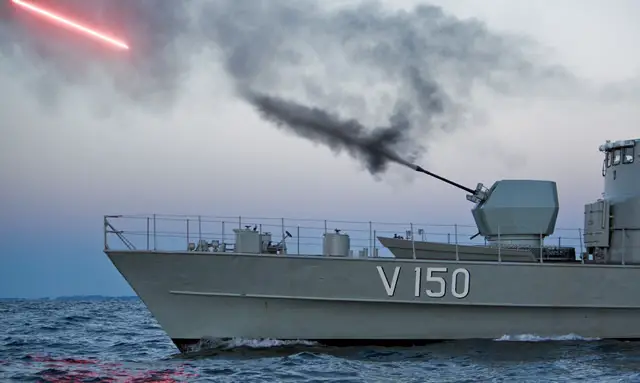 BAE Systems 40 Mk4 naval gun system during firing tests
(Picture: BAE Systems)
BAE Systems' presence this year will include scale models of a Eurofighter Typhoon, the 57mk3 and
40mk4 Naval Gun systems
, M777 lightweight howitzer, the Advanced Precision Kill Weapon System (APKWSTM) laser-guided rocket and an Offshore Patrol Vessel. BAE Systems will also showcase its capabilities in delivering cost-effective training, services and support and will have a model of a Hawk advanced jet trainer aircraft on its stand.
For the first time at DIMDEX and in Qatar, the capabilities of Eurofighter Typhoon will be demonstrated through the Typhoon Cockpit Simulator and our Combat Edge display. Visitors to DIMDEX are welcome to experience flying Typhoon in the Simulator.
Commenting on our attendance at the show, Martin Bennett, Regional Managing Director, Central, said: "We are pleased to be attending DIMDEX once again, this important show for Qatar, the region and ourselves. Through showcasing our air, land and maritime capabilities, we hope to demonstrate how our products and services can support the region with their specific defence requirements. We look forward to a successful show."