a
DIMDEX 2016 Online Show Daily - US Pavilion
U.S. Showcases Commitment To Maritime Defense And Security at DIMDEX 2016 in Qatar

When DIMDEX 2016 opens in Doha on March 29, the United States will be among the event's largest international exhibitors. With nearly 20 participating companies, the size of the American contingent is a strong indicator of how important the Middle East/North Africa (MENA) region is to the U.S. maritime defense and securitybusiness, and that countries in the region are likewise interested in working with the U.S. to further theirmaritime defense, security and economic goals.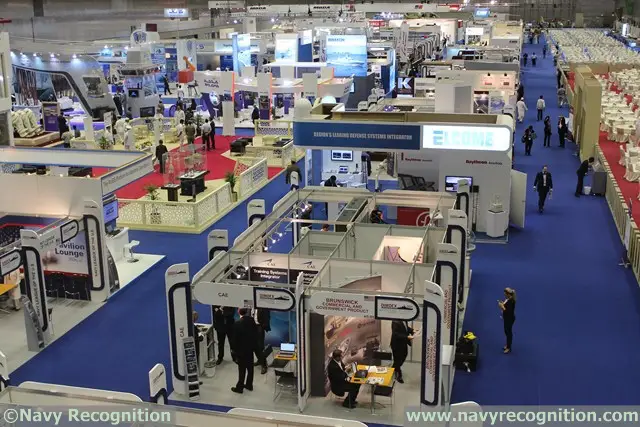 DIMDEX 2016 is set to be the largest specialised maritime naval defence and security exhibition in the Middle East and North Africa (MENA) region. File picture of DIMDEX 2014.
DIMDEX is Qatar's most prominent defense and security trade event. The American presence, featuring industry leading companies such as Boeing (Booth #H6-118), Lockheed Martin (Booth #H6-119), Raytheon (Booth #H6-217) and Textron Systems (Booth #H6-218)is organized by Kallman Worldwide, Inc., the designated U.S. Representative of the show, in coordination with numerous U.S. government agencies. For a complete list of U.S. companies at DIMDEX 2016 visit
kallman.com/dimdex
, the searchable online directory.
The centerpiece of the national effort, the nearly 1,500sqm (gross) U.S. International Pavilion, is a destination for buyers looking for an efficient way to meet a critical mass of U.S. suppliers, and an on-site business hub for U.S. exhibitors looking to maximize their exposure and impact at the event.
There are 16 exhibitors in the Pavilion, ranging from publicly traded stalwarts to privately heldsmall-and-medium-sized enterprises (SMEs). Pavilion exhibitors represent a cross-section of leading American suppliers working to strengthen or initiate international partnerships.
"When U.S. companies commit to exhibit at DIMDEX, they're saying they believe in the power of this event to attract real business prospects and customers. The growth and diversification of this show speaks for itself," said Kallman Worldwide President and CEO, Tom Kallman. "Our team is proud to help our exhibitors capitalize on this influential international business opportunity to grow their share of the marketplace and our nation's trade and investment partnerships in the region."
In addition to organizing the national Pavilion, Kallman Worldwide is promoting U.S. exhibitors with its "Ask America First" advocacy campaign. The message will be placed prominently on site, integrated into hospitality and VIP events during the show, and promoted in social media (follow on Twitter @kallmanEWC#AskAmericaFirst).
"The United States is one of the world's biggest maritime defense and security suppliers, but that's no guarantee that buyers will look to work with U.S. companies over others," said Kallman. "As the organizer of the U.S. presence at DIMDEX 2016, we have a responsibility to advocate not only for our exhibitors, but for our nation in this highly competitive marketplace. We want every visitor to 'Ask America first' at DIMDEX, and to be assured that America is listening."