a
DIMDEX 2016 Online Show Daily - Lacroix SYLENA Mk2
DIMDEX 2016: Lacroix Showcasing its new SYLENA MK2 Multiple Decoy Laucher for the 1st Time

At the Doha International Maritime Defence Exhibition & Conference (DIMDEX 2016) currently underway in Qatar, French company Lacroix is showcasing for the first time its SYLENA MK2 decoy launcher. It is a multiple decoy launcher design to deploy three types of ammunitions: SEALEM, SEALIR and CANTO.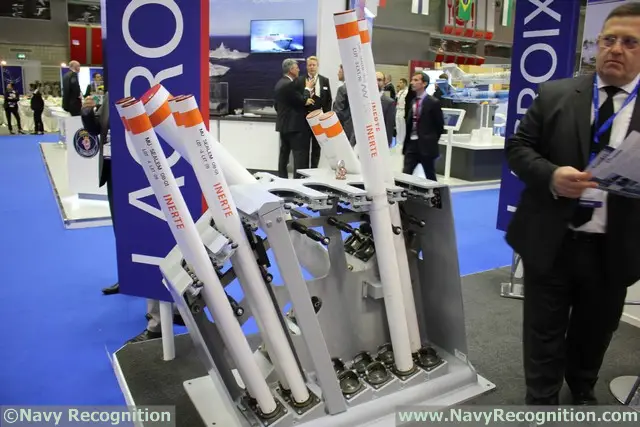 SYLENA MK2 decoy launcher showcased on Lacroix stand during DIMDEX 2016
SEALEM is a corner reflector Radio-Frequency (RF) decoy: It is design to match the ship's RF signature to challenge advanced missile's CCM. It is able to defeat generic and emerging threats as well as multi-missile salvoes.

SEALIR is a morphologic Infra Red (IR) spectral decoy: It is design to match the ship's IR signature. It is capable of defeating the full range of traditional and modern IR seekers as well as the latest generation of imaging IR seekers.

CANTO is an all in one broadband active acoustic emitter acting both as a jammer for dilution effect and as a false target generator for confusion effect. The extremely confused tactical picture forces the attacking torpedo(es) to waste time and energy finding the real target.

A Lacroix representative told Navy Recognition during DIMDEX 2016 that the Egyptian Navy became the first customer of the SYLENA MK2, when it selected the system for its future Gowind corvettes.

Another variant is available: the SYLENA MK2 IN: The launcher is then integrated into the structure of the ship and the top of the launcher is flush with the deck to maximise stealth.