a
DIMDEX 2016 Online Show Daily - DCNS
Video: DCNS Range of Surface Combatants at DIMDEX 2016 in Doha Qatar

At the Doha International Maritime Defence Exhibition and Conference (DIMDEX 2016) French naval shipbuilder DCNS showcased its range of surface combatants: Offshore Patrol Vessel (OPV), Corvette and Frigate types of vessels.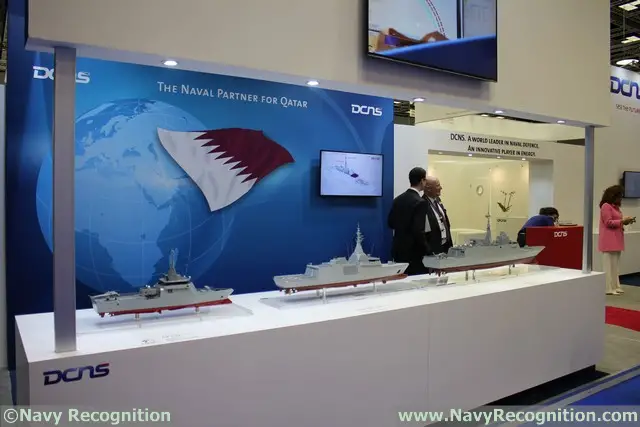 DCNS stand at DIMDEX 2016 showcasing OPV 75 (left), Gowind 2500 corvette (center) and FREMM Frigate (right).
OPV
The OPV 75 is KERSHIP's answer to perform law enforcement operations at sea with fast intervention and significant flexibility, high-endurance, good seakeeping behaviour. Benefiting from navies operational feedback and KERSHIP's expertise in shipbuilding and system integration, the OPV 75 comes into play not only for EEZ patrol and surveillance, but also on high seas while conducting boarding operations. The OPV 75 is a cost effective and polyvalent vessel able to fulfill military and civilian missions.

Corvette
The GOWIND® 2500 represents a new generation of multi-mission corvettes, robust and well equipped, both in terms of electronics, weapons and projection capacities. Integrating DCNS SETIS® Combat Management System, she has a comprehensive Combat System for full-scale multi-threat missions, including a complete Anti-Submarine Warfare, Anti-Air Warfare, and Anti-Surface Warfare suites. GOWIND® 2500 has already enjoyed a significant commercial success as 10 units were sold in 2013 and 2014 for the Malaysian Navy and the Egyptian Navy.

Frigate
Regarding the FREMM multimission frigate, she combines the latest technologies developed by DCNS, being the most advanced ship in her class worldwide. On 19th May 2015, DCNS achieved a world premiere in Europe in successfully launching from a surface ship, the first-of-class FREMM Aquitaine, the first Naval Cruise Missile (NCM). The NCM can strike distant land targets with very high precision, thanks to its guidance system, reducing the risk of collateral damage. France's total order is ten vessels with a delivery scheduled by 2022. In addition, one FREMM frigate has been delivered to the Royal Moroccan Navy and one to the Arab Republic of Egypt in June 2015, simultaneously with a five-year through-life support contract.

Hervé Boy of DCNS presents the OPV 75, Gowind, FREMM and services during DIMDEX 2016
Services
• Last but not least, DCNS offers a wide range of support services during the entire lifecycle of both surface ships and submarines. These services stretch from the simplest order of spare parts to the through-life support of complete fleet. On top of current support operations, DCNS can carry out modernisation and life extension programmes to maintain fleet availability at optimal cost. In Saudi Arabia, DCNS has a thirty-year presence and is now working on three programmes improving the Saudi fleet's availability through its subsidiary based in the Kingdom.
• DCNS also offers a complete set of courses and solutions designed to train all levels of naval and industrial personnel, from the start of a project through decommissioning and/or dismantling. Finally, DCNS proposes services in naval bases and shipyards from the Design, Engineering, Construction, and Operation to the maintenance of these infrastructures. This global offer is designed to help navies to maintain and expand their self-sufficiency within technology transfer programmes.