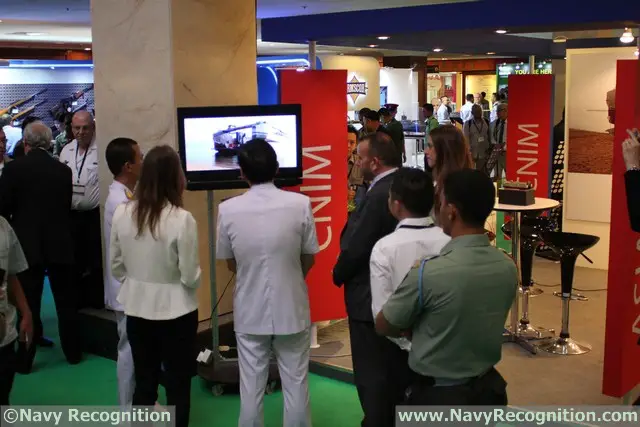 CNIM stand at DSA 2016 was visited by many officials
L-CAT Landing Catamaran
The
L-CAT
, manufactured by CNIM, is a completely innovative and rapid amphibious ship. The L-CAT® is intended for "shore to shore" applications or for amphibious operations from LHD and LPD type amphibious craft. Since 2011, the L-CAT has been commissioned into the French Navy under the name EDA-R (Engin de Débarquement Amphibie Rapide—rapid amphibious landing craft). It was also selected by the Egyptian Navy.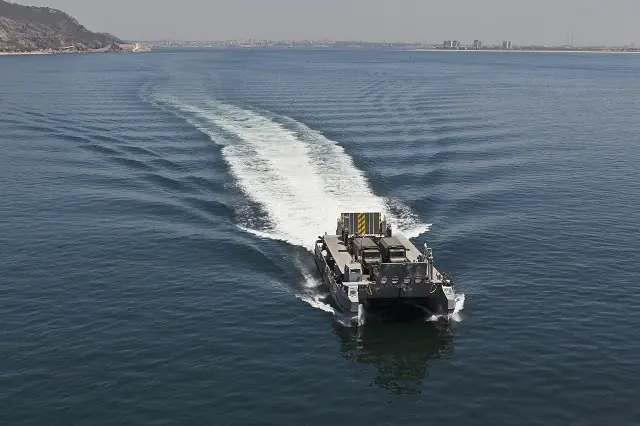 L-CAT Landing Catamaran
PFM Floating Bridge
PFM
is a bridging system providing continuous and discontinuous crossing of wet gap for main battle tanks, armored vehicles or civilian vehicles. A 100m long bridge can be built in 30 minutes. To best fit the Army's needs, PFM has two configurations and can be set up as a bridge or a ferry thanks to its modular, autonomous and motorized sections. It is an all-in-one product with no limitations in length of the bridge.
CNIM PFM in bridge configuration
PTA Assault Bridge
PTA
is a unique and modern bridge layer system adapted to front line situations. Within the combat theatre, CNIM Modular Assault Bridge offers close combat crossing support for tanks and armored assault units. PTA is fast, modular and adapted to all-terrain launching.