a
DSA 2016 Naval News - CILAS
DSA 2016: CILAS to Provide its Safecopter Helicopter Visual Landing Aid System for Malaysian LCS
At the DSA 2016 tri-service defence exhibition currently held in Kuala Lumpur (Malaysia)
Navy Recognition
learned from Boustead that French company CILAS has been selected to provide the Helicopter Visual Landing Aid System - HVLAS for the Royal Malaysian Navy
Gowind Frigate Littoral Combat Ship (LCS)
.
An NH90 Helicopter about to land on French Navy Frigate Guépratte assisted by CILAS' Safecopter
(Picture: CILAS)
For more than 25 years, CILAS (Compagnie Industrielle des Lasers) has been developing and producing its Helicopter Visual Landing Aid System - HVLAS also known as SAFECOPTER.

This system includes a digital glide slope indicator, a horizon reference bar, ship and deck lights, a man-machine interface and an electrical cabinet.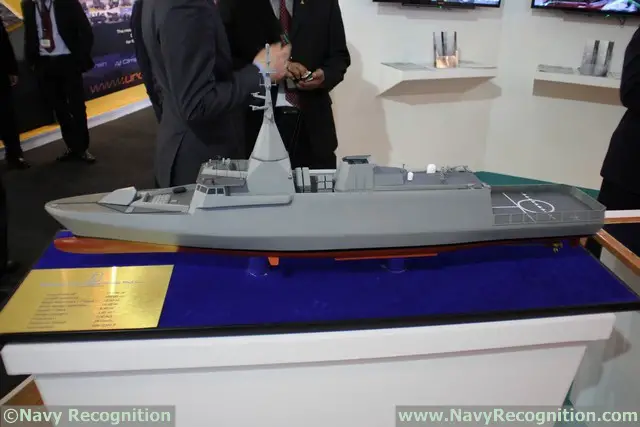 Scale model of Gowind LCS on Boustead stand at DSA 2016
SAFECOPTER ensures safety for helicopters, pilots, vessels and crew. More than 130 ships are already equipped all over the world for more than 20 Navies.

This system fits to every ship & Navy thanks to its flexible architecture. SAFECOPTER meets all pilots' safety requirements for day and night taking off & landing phases. Robust and highly reliable, the product evolves to always fulfil the safety and operational needs: SAFECOPTER is compliant with any type of pilot's night vision goggles, up to the latest (NVG Generation III, filters A & B).

SAFECOPTER is on board of the French LHD Dixmude and will be on board the 2 sister ships for the Egyptian Navy.