a
EURONAVAL 2016 Online Show Daily - Press Release

Euronaval 2016: Interview with Alseamar Director François-Xavier de Cointet
Euronaval is always the perfect occasion to discuss what has already been done and what has still to be done in term of marketing and innovation. Let's take the example of the French company Alseamar and its Director, François-Xavier de Cointet, which offered a significant interview on the occasion of the 25th edition of Euronaval exhibition.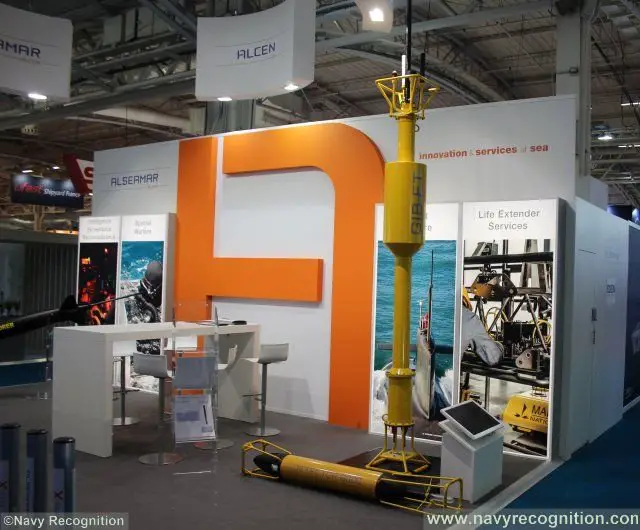 Under recent difficult circumstances, Alseamar was able to prove again its technological skills. Let's have a look at this operations?
Yes, we participated, during the summer 2016, in search of the flight recorders of the Egyptair flight that got damaged on the route between Paris and Cairo. Our DETECTOR system, embarked on the French ship Laplace helped us to find them within 24 hours. This success demonstrates once again the expertise of ALSEAMAR and its high skills in information processing submarine acoustics, its capacity to mobilize teams and resources suiting in technological operations in haute-sea.

Can you present more completely Alseamar?
Alseamar is a young company with a large back ground. It arose from the merger of three subsidiaries of the Alcen group. It grew rich of this diversity of the past which allows it to spread its activity on 5 competence centers. Alseamar produces materials of buoyancy adapted to the big depths, for submarines and for oil & gas companies. Its systems of radio communication naval equip the French and foreign submarines and warship. In the acoustic domain Alseamar has with DETECTOR or the GIB systems a unique expertise in submarine localization of objects or submarines in trouble. In the field of marine and submarine robotics, Alseamar industrializes a range of vehicles and undersea gliders. And we propose a wide range of services for extending life expectancy of equipment high added value, maintaining underwater equipment in operational condition and dealing with their obsolescence problems. When the navy or oil companies need a punctual mission of services, our technicians are used to operate in open sea, they can embark and lead the operations which allow our equipment. We also assure trainings, so that our customers can use our equipment in an autonomous way.

You evoked the Alcen group of which Alseamar is a member. How forms itself this organization?
Alcen is a family group and what we call a medium-sized company, it employs approximately 1 900 people. Alcen develops technologies in four domains: defense, energy, aeronautics and medical. The Alcen group gathers subsidiaries. Each one develops one or several technologies and know-how of niche. Alseamar is one of these subsidiaries, mainly settled in the south of France at the edge of the Mediterranean Sea, an innovative SME which employs 90 engineers and qualified technicians.

In what is Alseamar an innovative company?
It is not only innovative but in development. At the moment, some of our products are unique on the market. The R&D is for us a fundamental axis to face the future in front of our competitors. And we also invest on our production tool by building new sites in our region of origin. The one, to Rousset near Aix en-Provence, will welcome our robotics and acoustic activity as well as the commercial department. Two others at Six-Fours near Toulon are intended for the production of materials as the syntactic and composite foams and the other one dedicated to the naval radio communications and the department in charge of the sector of the Defense for the maintaining in operational condition.

Alseamar is present at Euronaval in Paris from 17 till 21 October 2016. What is it going to present as innovative products?
We are present on the Euronaval meeting with three ranges of products, the one was dedicated to the equipment of the special naval forces; the second concerns the domain the ISR (Intelligence, Surveillance and Reconnaissance) and the third the marine and submarine classic naval forces. We also offer a wide range of services for modernization of the naval equipment.

For special forces, you design and produce a range of small submarines dedicated to the special operations at sea and from sea to shore.
SPHYRENE and CORYPHENE are small submarines. Swimmer Delivery Vehicles are used to transport Navy Seals for special operation warfare. They have been designed to provide the best ergonomics and performances to the combat swimmers. They can be deployed from shore, boat and even a submarine from a dry-deck or wet-deck shelter. A large cargo capacity, a high navigation accuracy and very easy to drive are the strengths of these vehicles. We have more than 5 years of experience on this field. We also propose from now on MURENE, a light submarine vehicle which commando squads can use as a kind of submarine motorcycle which facilitates travel and transport of equipment. It can be carried from tubes throw torpedoes of submarine. There is no equivalent on the market.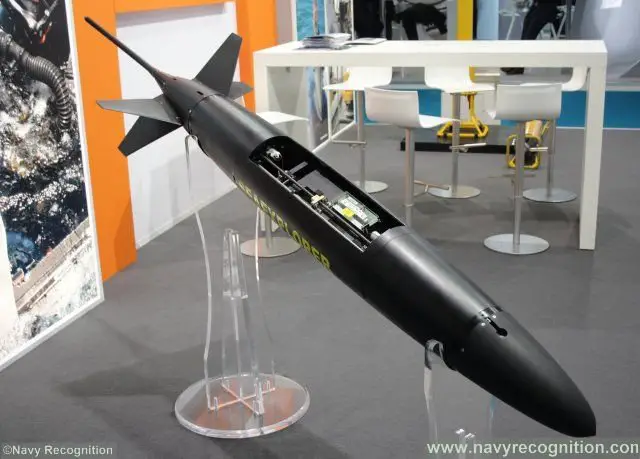 Alseamar's Sea Explorer underwater glider showcased at Euronaval 2016

In the field of the ISR, Alseamar presents already more than an asset. Is it a domain in which you always succeed in innovating?
Our engineers are overflowing with creativity! We present to the Euronaval show a semi submersible drone. The vehicle is a multi-mission USV, stealth, easy to use, flexible, rugged and easily deployable by one or two men. It can be carried in a Commando craft to deploy it from a waiting area which is usually at a few nautical miles from the target area. It allows to complete an operational mission such as gather Intelligence in real-time, perform a recognition of suspicious ship, harbors, maritime infrastructures (Oil&Gaz platforms..), destroy a target, or record underwater acoustic signals. We also present our range X-Sub: it is buoys which a submarine in dive can release and tow. The buoy goes back up on surface to pass on and receive data.It is buoys which a submarine in dive can release in a very direct way. The buoy goes back up on surface to pass on and receive data through optical fiber. After a while it flows and the submarine takes back its mission calmly.

In the range of your products, SeaExplorer draws particularly the attention.
SeaExplorer allows to collect submarine real time data. It proved its capacity to be used in the sector military or oil and gas or scientific sector, because we can program the sensors located in its nose according to the aimed mission. We intend to widen the range of this underwater glider capable of staying «during flight» for a long time (until 2 months) and without energy consumption; it trots by oscillations thanks to a roadbed. When it returns to the surface, it sends the data collected under the sea by a satellite link, then dives back for new missions. Two new models are in development, they will allow to reach bigger depths and to embark new sensors. Until then, SeaExplorer dived solo. We will be able to use it in pack from 2018.

The technological equipment which designs Alseamar are proposed in the sale. But you can also rent them for specific missions.
We propose what we call off-the-shelf products, for sale and adaptable to the use that our customers intend for, whether it is in the sector of the Defense, the oceanography or the oil & gas exploitation, as we've seen it for SeaExplorer. In this type of deals, we also offer a very efficient after-sales service, the result of our long experience in the domain, as well as the associated trainings. But we offer more. The Navy or a company can request missions in which we shall use our products to their benefits. It was the case with Detector for the research for flight recorders. We can also use SeaExplorer or our drones of surface SeaSurveyor, to supply to our customer a collection of data which he needs.

The service also includes the analysis of these data. We can also study a request on specifications, analyze it then make equipment accordingly. It now happens with the English Ministry of Industry which held Alseamar to design and make a new system of research for flight recorders. We also lead numerous R&D studies, among which some very confidential for the benefit of the French MoD.

A navy has to comply with the maintenance of its naval or submarine vessels. You propose a department of maintenance, search for obsolescence which allows to extend the life of these ships.
The extension of thelife expectancy of the high value-added equipment is an economic requirement for Marine. We developed an engineering of services which answers this requirement, for repairing these systems, for spotting the obsolescence and for implementing a process of reengineering to recreate systems out-of-date or intended to be, or again for putting under cocoon the systems to maintain them in operational conditions. It is a fundamental part of our activity and a main advantage for our customers.

You speak about customers. The sector of the Defense is an economic market. How does an export oriented SME tackle this market?
All the markets are opened from now on. Alseamar was prepared and makes 50% of its turnover with export activities towards countries in North and South America, Asia and Middle-East. We have the ambition to adapt human resources in this way. We evolve beside the traditional big actors as DCNS in France, which opens important markets, support us, and to whom we bring all the skills of the Alcen group. Our engineers design very high-technology products and we acquired this capacity to register our specific skills in global projects.