a
NAVDEX 2017 Online News Coverage - DCNS Gowind Corvette
Video: DCNS Gowind Corvette at IDEX 2017 in Abu Dhabi - UAE
During IDEX-NAVDEX, held from 19th to 23rd February in Abu Dhabi in the United Arab Emirates, DCNS was showcasing the GOWIND Corvette.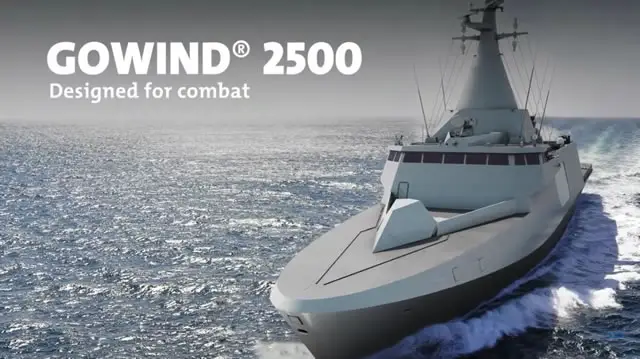 Gowind Corvette. Image: DCNS
The GOWIND® 2500 represents a new generation of multi-mission corvettes, robust and well equipped, both in terms of electronics, weapons and projection capacities. Integrating DCNS SETIS® Combat Management System, she has a comprehensive Combat System for full-scale multi-threat missions, including a complete Anti-Submarine Warfare, Anti-Air Warfare, and Anti- Surface Warfare suites. GOWIND® 2500 has already enjoyed a significant commercial success as 10 units were sold in 2013 and 2014 for the Malaysian Navy and the Egyptian Navy.
Video: DCNS Gowind Corvette at IDEX / NAVDEX
The Egyptian corvettes will have a displacement of 2,500 t., a length of 102 m, beam of 16 m and draft of 3.6 m. Their maximum speed will be 25 knots and their maximum range 5,000 nm with a speed of 15 knots.

Their armament will include a 76 mm main gun, two triple torpedo tubes, two quadruple MM40 Block 3 Exocet missile launchers, two remote-controlled Nexter Narwhal 20 mm cannons and MBDA MICA IR/RF vertical launcher with 16 cells.

The sensors include a Smart-S Mk 2 radar, a Kingklip hull-mounted sonar, a Captas 2 variable depth sonar, a Vigile 200 Radar-ESM and Altesse Communication-ESM suit, all made by Thales.