---
Thales is right on schedule and on track with the Sea Fire, the next generation radar of the FTI medium-size frigate of the French Navy (Marine Nationale). Navy Recognition learned the information ahead of Euronaval 2018, the largest naval defense exhibition in the world.world.
---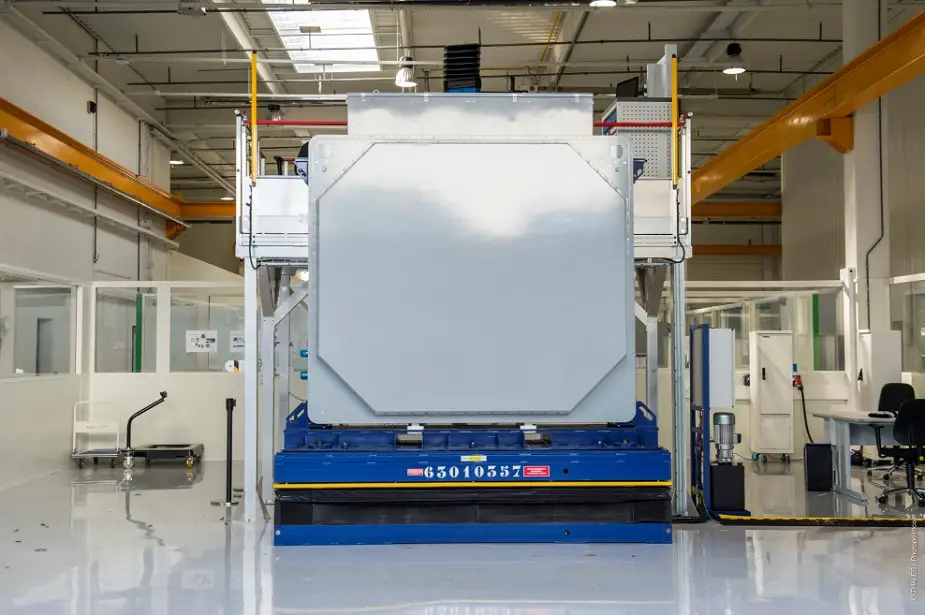 Sea Fire radar array at the integration facility in Limours, France. Thales picture.

---
The radar entered production in March 2018 and the first fixed pannel is currently being tested at the Thales site of Limours, South of Paris. The next step for Thales will be the delivery of two Sea Fire pannels to the French defense procurement agency (DGA) by the summer of 2019. The intend is to test Sea Fire in near-real conditions at the shore integration facility (SIF) in Saint Mandrier, near Toulon naval base. A site where all radars used by the French Navy are thoroughly tested, qualified and improved (on the software side). Qualification of the Sea Fire radar is set for 2020.
In the meantime, Thales is starting the production of the four arrays for the first-of-class FTI, these arrays are expected to be delivered by 2020, at the Naval Group shipyard in Lorient.
---
Our recent interview on the Sea Fire radar

---
The Sea Fire is fully solid-state multifunction radar with a four-panel phased array antenna. It is designed for roles ranging from ship self-defence to extended air defence, providing protection from conventional, asymmetric and emerging air and surface threats.
The DGA awarded the FTI contract to develop and build five 4000 tons frigates to Naval Group in April 2017. The first of these five vessels will be delivered in 2023 and will enter active service in 2025.
The Sea Fire radar concept is the culmination of three years of advanced research into new radar technologies and architectures, conducted with the support of the DGA. It is tailored to evolving requirements and the new threats faced by the French Navy, particularly supersonic missiles. This digital radar is at the forefront of technological innovation and benefits from all Thales's Big Data and cybersecurity expertise. Subsequent software developments will further improve the product's performance and operational reliability throughout its lifecycle.
---