---
Navy Recognition one of the most popular online magazine covering Naval Forces, Naval Defense Industry, Navy Technology and Maritime Security News with Army Recognition online Defense and Security magazine have been appointed by DIMDEX organizers as the Official News Online and Official Web TV of DIMDEX 2020 taking place in Doha, QATAR from 16 to 18 March 2020.
---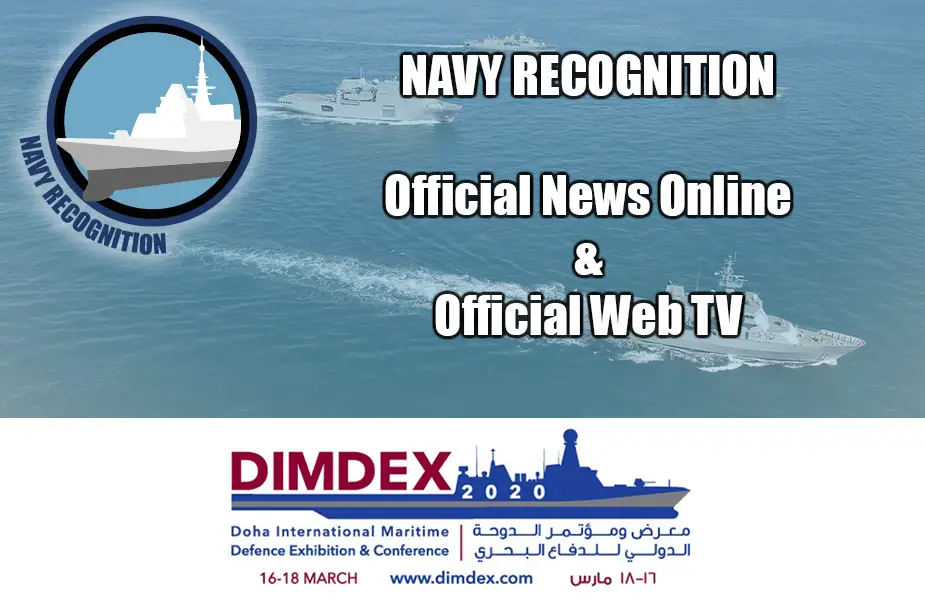 Navy Recognition partner of DIMDEX 2020 (Picture source: Army Recognition)
---
Dear Exhibitors and Visitor of DIMDEX 2020,
As the Official News Online supplier and Official Web TV for DIMDEX 2020, Army/Navy Recognition editorial team will have a significant presence at the show to provide a full coverage about this event. Published online and updated daily, use DIMDEX 2020 Official News Online and Official Web TV to increase your impact and presence before, during and after the exhibition.
Our Official News Online and Official Web TV DIMDEX 2020 spread all activities of the event and provide all exhibitors with a global online window in parallel with DIMDEX 2020 exhibition about the latest defense and security technologies and innovations. During the event, the Online Show Daily News will be read by 25,000 to 50,000 people from all over the world (130 countries).
As Official Online Web TV of DIMDEX 2020, we will provide daily videos with interviews, reports and full coverage of the event. Thanks to the popularity of our Online Defense and Security News channel on YouTube with more than 110,000 subscribers, 1,200,000 videos views/month and more than 3,300,000 minutes view/month and our Defense and Security Web TV website: https://www.defensewebtv.com, use these new ways to communicate and promote your Company and its range of products during DIMDEX 2020. Our daily videos of DIMDEX 2020 will also publish on the main screen in the press center.
For more information, please contact our advertising and marketing services: This email address is being protected from spambots. You need JavaScript enabled to view it. | +32 81 39 11 56
---
---
About DIMDEX 2020:
The Doha International Maritime Defense Exhibition & Conference (DIMDEX), is one of the most important events in the global maritime defence and security industry of 2020's calendar. Held under the patronage of His Highness Sheikh Tamim bin Hamad Al-Thani, Emir of the State of Qatar, and hosted and organised by Qatar Armed Forces.
DIMDEX is firmly established in the global maritime defence and security industry calendar with a proven track record of delivering tangible benefits for its esteemed attendees. It has a reputation as a premier arena for showcasing the latest technologies that will help address regional and international defence challenges. This is done through the main activities of the event: the exhibition, the Middle East Naval Commanders Conference (MENC), the Visiting Warship Display from international naval forces, and meetings between the industry and invited VIP delegations.
DIMDEX 2020 builds on past success as the most comprehensive maritime and defence exhibition in Western Asian Hemisphere. Marking its successful 10th-anniversary edition, DIMDEX 2018 attracted approximately 13,000 visitors during the three-day event and hit a record number of agreements, with more than 35 partnerships, agreements and MoUs being announced.
The edition 2020 of DIMDEX will offer unmatched commercial opportunities to participants by providing a dynamic platform to showcase cutting-edge maritime defence technologies and discuss the latest global trends with key decision-makers and leaders in the industry.
---