---
The Italian Navy displayed the FREMM (Carlo Bergamini-class) frigate Carlo Bergamini, at Doha International Maritime Defence Exhibition & Conference (DIMDEX).
---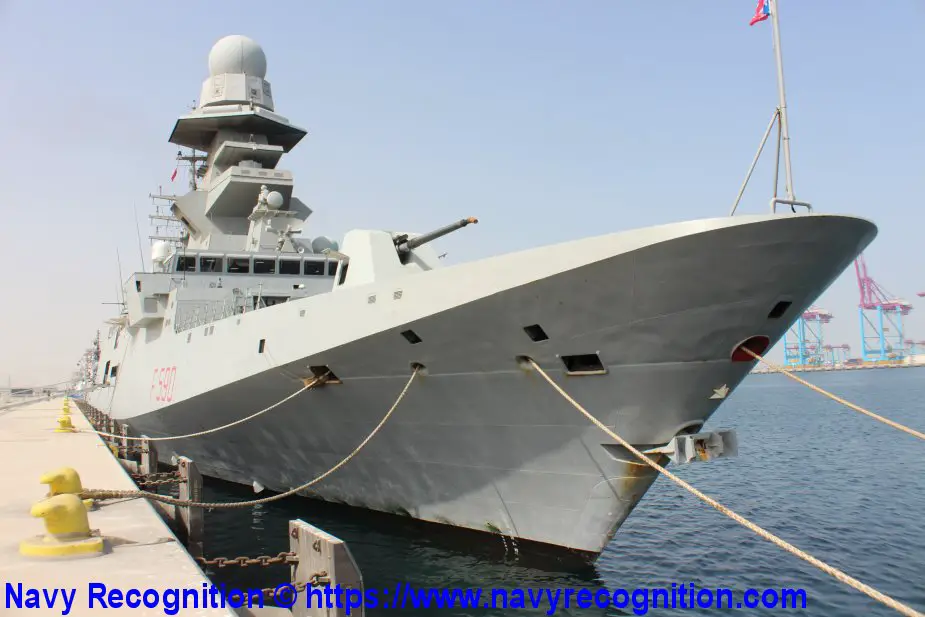 FREMM frigate Carlo Bergamini, Hamad port (Picture source: Navy Recognition)
---
Carlo Bergamini (F 590) is a Carlo Bergamini-class frigate of the Italian Navy. Which in turn were developed by the FREMM multipurpose frigate program. Carlo Bergamini was delivered to the Navy on 29 May 2013, at the La Spezia headquarters.
The Carlo Margottini frigate is powered by a combined diesel-electric and gas (CODLAG) propulsion system that includes one 32 MW gas turbine General Electric/Avio LM2500+G4 engine, two 2.5 MW electric motors Jeumont Electric and four diesel generators.
The ship can reach a top speed of 27 knots (50 km/h; 31 mph) with a maximum cruising range of 6,800 nmi (12,600 km; 7,800 mi) at 15 knots (28 km/h; 17 mph).
The Carlo Margottini frigate is armed with 16-cell MBDA SYLVER A50 VLS for 16 MBDA Aster 15 and 30 missiles, one Leonardo Otobreda 127/64 Vulcano, two Leonardo OTO Melara 76/62 mm Davide/Strales CIWS guns, two Leonardo Oto Melara/Oerlikon KBA 25/80 mm remote weapon systems, eight MBDA Teseo\Otomat Mk-2/A anti-ship and land-attack missiles, two triple Leonardo (WASS) B-515/3 launcher for MU 90 torpedoes, two SITEP MASS CS-424 acoustic guns and four MBDA MILAS anti-ship missiles.
---