---
At Euronaval 2022, the Swedish Saab Group presents its solutions to the highly topical issue of seabed warfare. These solutions include AUVs, ROVs, and hybrid solutions.
Follow Navy Recognition on Google News at this link
---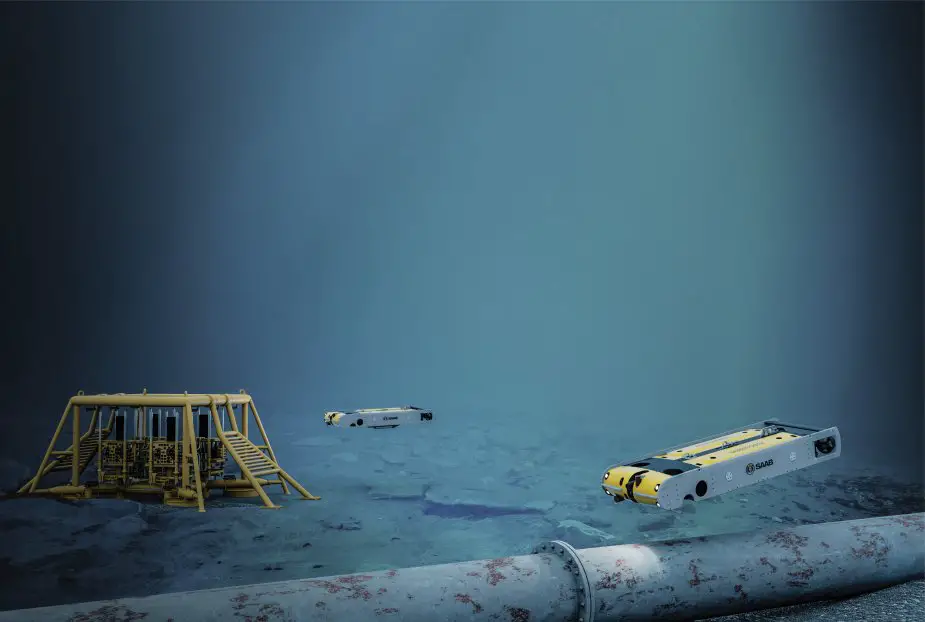 Hybrid AUV/ROV Sabertooth. (Picture source: Saab)
---
The Underwater Systems facilities of Saab are spread among Sweden (about 250 people), Denmark, the United Kingdom and most recently the newly announced facility in the USA. The teams located in Sweden are more focused on the military field, while those in the United Kingdom are focused on commercial and dual-use applications. They have a long tradition of cooperation with Thales in the field of mine warfare.
Seabed Warfare
There have been many changes in the last few years in the doctrine with the increase of threats from foreign actors, which illustrates the importance of ensuring the security of the seabed, whether related to submarine cables that are essential for communication between the different continents, or gas pipelines. This requires tools and structures to protect these crucial infrastructures.
The French Ministry of the Armed Forces unveiled a new doctrine "France 2030" for securing submarines in February 2022. The previous month there had been suspicion of sabotage of Norwegian cables in January 2022, which some considered Russia as the likely culprit.
The basic requirements for seabed warfare are the protection of critical infrastructure involving surveying the seabed, neutralizing possible attacks to ensure a secure area, with potential operations to be carried out between 3,000m and 6,000m depth, or in shallower waters e.g. 200m.
The different sectors are energy, telecoms, mineral extraction, and defense.
The scope of implementations is very wide, be it for ships or Unmanned Surface Vessels, and Saab will be able to meet these different demands thanks to its experience. Specifically, through ROV, AUV, and hybrid solutions.
Commercial Unmanned Underwater Vehicles such as Sabertooth are capable of carrying payloads, tools, and inspections. Saab has also developed expertise in the recovery of ROVs and AUVs in difficult conditions.
Saab's various products for use in the more traditional mission of mine warfare and surveillance are the Double Eagle SAROV, the SeaWasp IED ROV, the Double Eagle MkII/MkIII, and the MuMNS ROV.
---