---
The European company MBDA and MILTECH from Greece have signed an R&D contract in the field of novel infrared stealth materials for military applications, in collaboration with the University of Patras. This contract falls under the cooperation programme associated with the FDI HN (Defence and Intervention Frigates for the Hellenic Navy), and supports European efforts towards independence in the defence industrial base.
---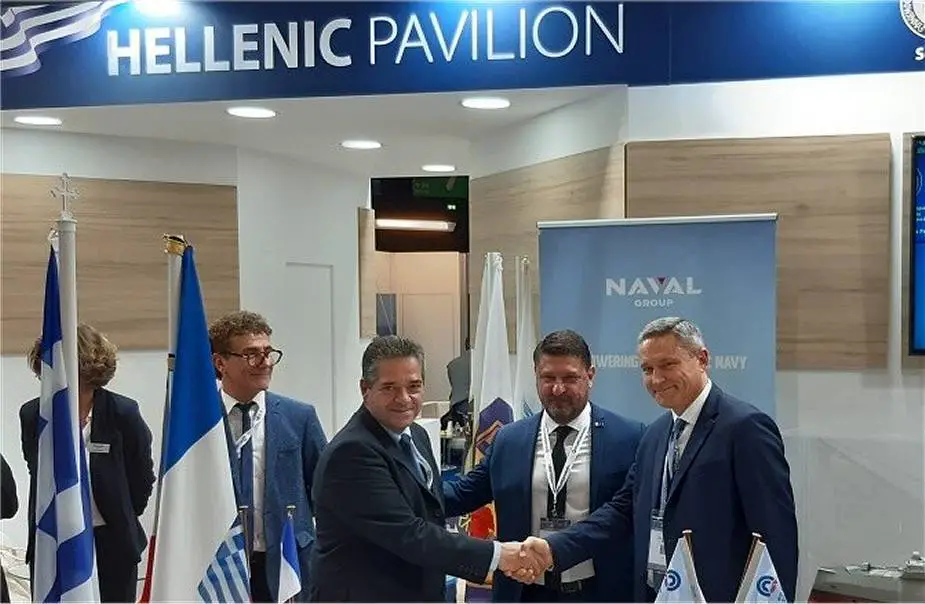 MBDA and MILTECH sign an R&D contract in the field of novel infrared stealth materials for military applications. (Picture source: Navy Recognition)
---
Eric Béranger, CEO of MBDA, declared: "The contract that we've signed today with MILTECH is a perfect example of how we champion innovation and co-operation at MBDA. By moving forward in the research of deeply innovative and disruptive technologies we have also reinforced for the long term the historical partnership we have built with Greece".
MBDA has supported the Greek Land, Marine and Air forces for over 25 years which has allowed the creation of many collaborations with Greek Defence companies, as well as the identification of particular competences in several advanced technologies.
This is the reason why MBDA started advanced negotiations with several companies (INTRACOM, AKMON, ELFON, TEMMA, DASYC, SSA, HAI and MEVACO) to set up industrial cooperation projects, including competency transfers, for the benefit of the Greek armed forces.
The purpose of these cooperation programmes, associated with contracts such as providing the FDI HN frigates with missile systems, is to directly embed selected Greek companies in MBDA's supply chain. By doing so they can benefit from the opportunities that future international contracts represent in the long term.

On September 28th, 2022, Nikólaos Panayotópoulos, the Greek Minister of Defence, Pierre Eric Pommellet, CEO of Naval Group, and Eric Béranger, CEO of MBDA, signed a Memorandum of Understanding to open negotiations to provide the Hellenic Navy (HN) with three Defence and Intervention frigates (FDI HN) and their equipment as well as an optional additional frigate.
The FDI HN features high-level capabilities in all warfare domains: anti-ship, anti-air, antisubmarine and special forces projection. Its air and surface defences are ensured by the most modern sensors, including the Thales Sea Fire, the first all-digital multifunction radar with an active antenna and fixed panels.
The FDI HN is equipped with a unique integrated mast that brings together all the airborne sensors, enabling permanent 360° surveillance. As the first frigate on the market to be natively protected against cyber threats, the FDI HN is equipped with two data centers hosting almost all of the ship's applications.
---