---
The Israeli company Rafael exhibits at Euronaval 2022, the International Naval Defense Exhibition in Paris, France, and displays for the first time its C-DOME, a naval air defense missile system that is integrated into the new Israeli Navy Sa'ar 6 Corvette.
---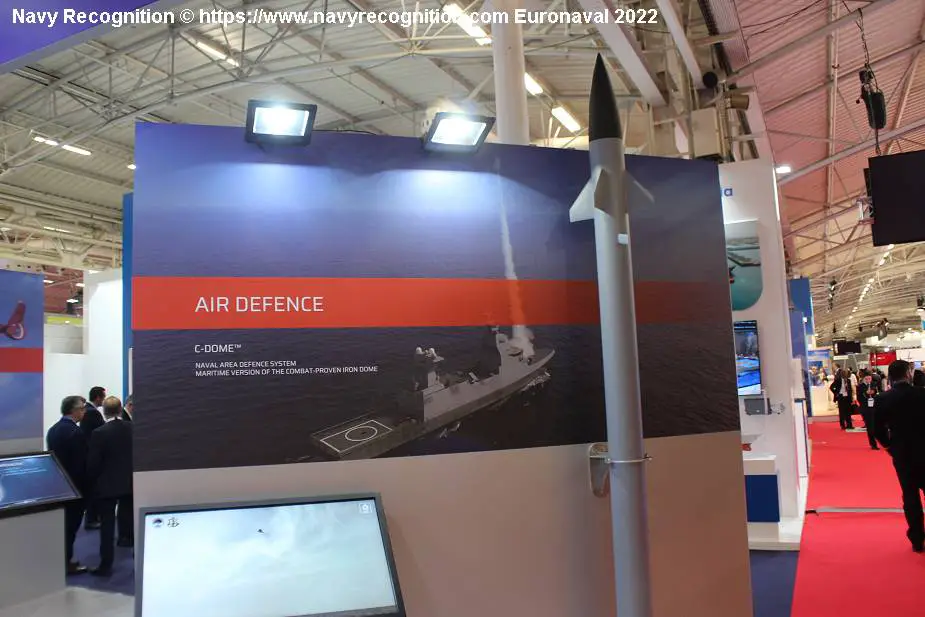 The Israeli company Rafael displays for the first time at Euronaval its C-Dome naval air defense missile system. (Picture source: Navy Recognition)
---
The RAFAEL's C-DOME is the naval adaptation of the renowned, combat-proven IRON DOME, which, to date, has achieved over 5000 combat interceptions. Operational with the Israeli Navy, C-DOME is designed to protect strategic naval and land assets against a wide variety of threats.
In February 2022, the Israel Missile Defense Organization (IMDO), in the Directorate for Defense R&D of the Israel Ministry of Defense, the IDF (Israeli Defense Forces) and Rafael Advanced Defense Systems completed a successful series of live-fire tests of the 'C-Dome' system. The 'C-Dome' was operated for the first time aboard the Israeli Naval Ship (INS) Sa'ar 6 'Magen' corvette against multiple advanced threats.
The 'C-Dome' onboard missile defense system is based on the Iron Dome defense system developed by Rafael, with the command-and-control system developed by mPrest. 'C-Dome' interfaces with the Saar 6's 'Adir' radar, developed by IAI's ELTA division. It joins other advanced systems that make up Israel's multi-tier missile defense array, including the Arrow and David's Sling systems. The development of 'C-Dome' was led by the IMDO in Israel's Ministry of Defense.
The C-Dome Naval Point Defense System is designed to effectively protect combat vessels against a large set of modern threats. It handles saturation attacks by engaging multiple targets simultaneously. reaction time is very short and enables automatic and semi-automatic engagements.
C-Dome components include a multi-round launcher assembly loaded with vertically-launched canisterised interceptors. The C-Dome utilizes the ship's own surveillance radar and does not require a dedicated Fire Control Radar. Weapon System Command and Control is seamlessly integrated with the ship's combat management system, facilitating system operation. The launchers are installed under the ship deck. Interceptors are maintenance-free and are stored in a sea-proof canister. Up to 10 interceptors can be loaded into a modular Vertical Launcher Unit.
---