---
British company Babcock promotes its Arrowhead 140 frigate for the international market at Euronaval 2022, a naval defense exhibition in Paris, France. The vessel is a highly adaptable, flexible, affordable frigate platform that can be accommodated with multiple combat system options and multiple weapon choices according to modern Navy requirements.
---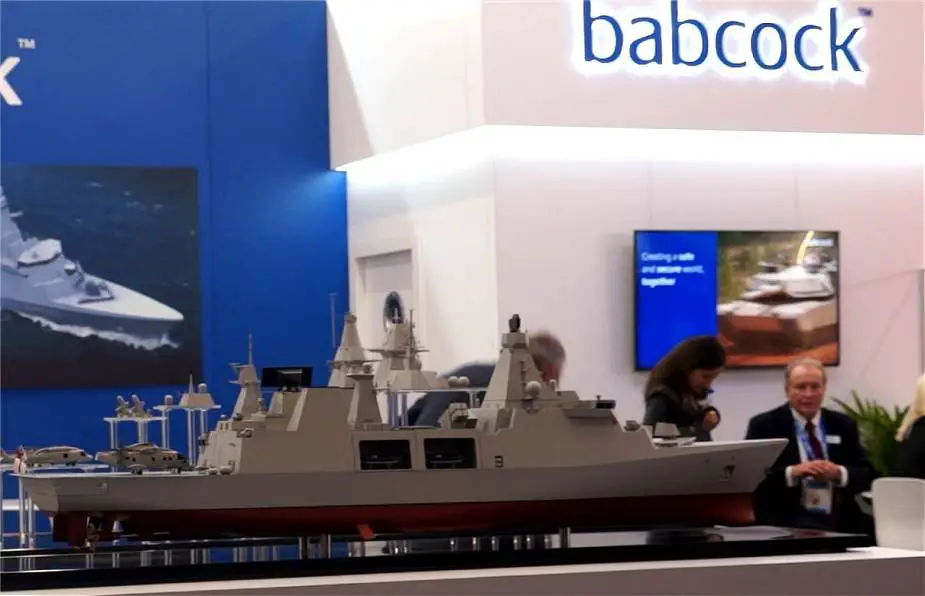 Babcock displays a scale model of its Arrowhead 140 frigate at Euronaval 2022, International Naval Defense Exhibition in Paris, France. (Picture source Navy Recognition)
---
The Arrowhead 140 frigate was selected by the British Royal Navy for the Type 31 program as well as for a naval program in Poland and Indonesia. The design of Babcock's Arrowhead 140 frigate originates from an air defense frigate, but is able to change operational role rapidly depending upon capability needs and will meet naval requirements both now and in the future. It is a multi-mission surface combatant capable of conducting AAW (Anti Air Warfare), ASuW Anti-surface warfare, ASW (Anti-Submarine Warfare) and EW (Electronic Warfare) operations and is operationally proficient in both blue water and littoral areas.
Based on Arrowhead 140, Babcock can build modern platforms that navies can use to tailor to their own specifications and when you add world-leading experience in naval platform in-service support with a deep understanding of support cost drivers, the Babcock team offers a glimpse into an exciting new world of UK and international ship build delivery and intelligent ship support with Arrowhead 140.
Babcock has also optimized the design of the Arrowhead 140 to reduce maintenance costs, minimize the potential risks during missions and operate in adverse environmental conditions.
In terms of technical features, the Arrowhead 140 has an overall length of 138.7 m, a maximum beam of 19.8m, and a design draft of 4.8m. She has a displacement of 5,700 tons. The vessel is designed to carry more than 160 people but she can be operated with a minimal crew of 80-100.
The Babcock Arrowhead 140 frigate is equipped with a Thales tactical information and command system (TACTICOS) that combines Combat Operations and Maritime Security Operations in one CMS (Combat Management System). The TACTICOS technology is used on board more than 200 ships (from small patrol craft to full-size frigates and destroyers) operated by 25 navies. Those include the U.S. Navy as well as navies in Asia, Europe, the Gulf region, Latin America, the Middle East, and North Africa. The adaptable platform means that naval forces may choose alternative systems using indigenous capabilities and combat systems, Babcock is able to accommodate multiple combat system options and multiple weapons choices.
The propulsion system of the Arrowhead 140 frigate is a CODAD (Combined diesel and diesel) type including four MTU 20V 8000 M71 (8.2 MW) diesel engines and MTU 16V 2000 M41B (900 kW) generators. The vessel can reach a top speed of 28 knots (52 km/h) with a maximum endurance of 9,000 nautical miles (17,000 km).
The weapon systems of Type 31 include VLS (Vertical Launching System) Sea Ceptor anti-air missiles, a Bofors 57mm Mk 110 main gun, two 40mm Mk 4 secondary guns, four 7.62mm machine guns, and four 7.62mm miniguns. But according to customers' requirements, the main weapon systems can be adapted using different types of missiles and main guns.
---
---