---
At Euronaval 2022, a naval defense exhibition that was held in Paris, French Company Nexter unveils the latest generation of its NARWHAL 20mm remote-controlled turret which is now armed with one 20mm automatic cannon and the MBDA's AKERON guided missile launch pod.
Follow Navy Recognition on Google News at this link
---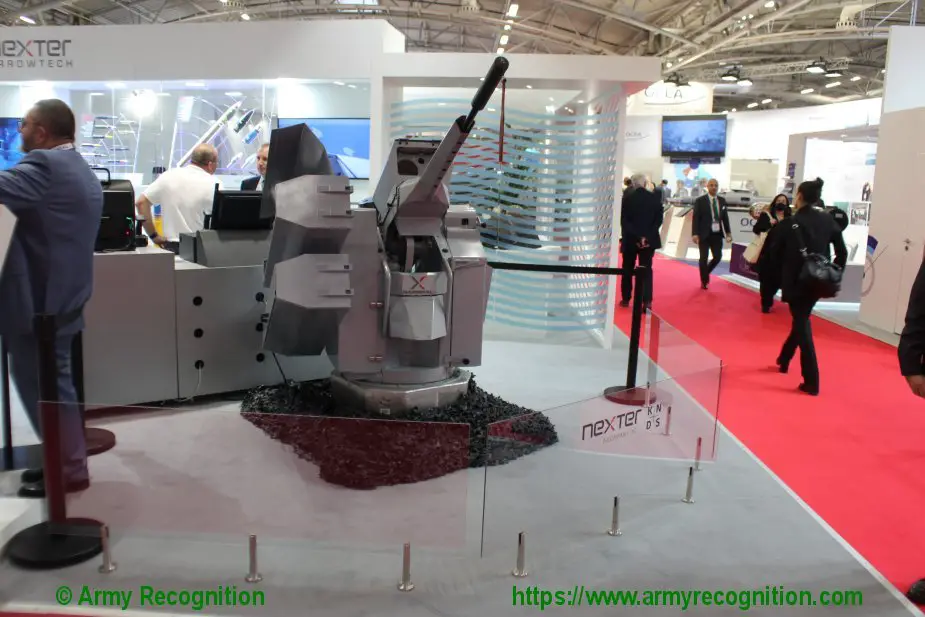 Nexter's Narwhal 20mm remote-controlled turret at Euronaval 2022. (Picture source: Army Recognition)
---
The Nexter Narwhal is a type of remotely operated naval artillery turret made by the French company Nexter. It houses a 20 mm autocannon based on the Nexter M621 and M693.
The name "Narwhal" is a backronym of "NAval Remote Weapon, Highly Accurate, Lightweight". It is designed to fit warships of all types ranging from patrol boats to frigates to aircraft carriers, notably as a close-quarters self-defence weapon.
Nexter offers two versions of the Narwhal: Narwhal 20A, based on the Nexter M621, firing 20×102mm ammunition; Narwhal 20B, based on the Nexter M693, firing 20×139mm ammunition. This is the version operated by the French Navy.
The turret houses electro-optical cameras that offer daylight and nighttime vision, as well as a motion tracking system. It can rotate 360° in azimut, and from +75° to -20° in elevation. The gun is stabilised and can rotate quickly to attack targets at close range.
The French Navy uses the Narwhal on a number of ships. On large units, it is used as a secondary armament for self-defence, while it can constitute the main armament of smaller units.
Narwhal constitutes the main armament of the three Confiance-class patrol boats, commissioned from 2016. Confiance was the first French patrol boat to mount the system. The fire control system of Narwhal is designed to guarantee that warning shots land safely off-target.
The project for Patrouilleur Outre-mer patrol vessels, unveiled in January 2020, also comprised a Narwhal gun as main armament at the bow of the ship.
---
---