a
Naval Industry News - Russia
Russia's Concern Morinformsystem-Agat Designing Next Generation Combat Management System
The Morinformsystem-Agat Joint Stock Company is designing a new combat control information system for warships which is a new-generation combat information software, Director General and Designer General of the company Georgy Antsev told TASS.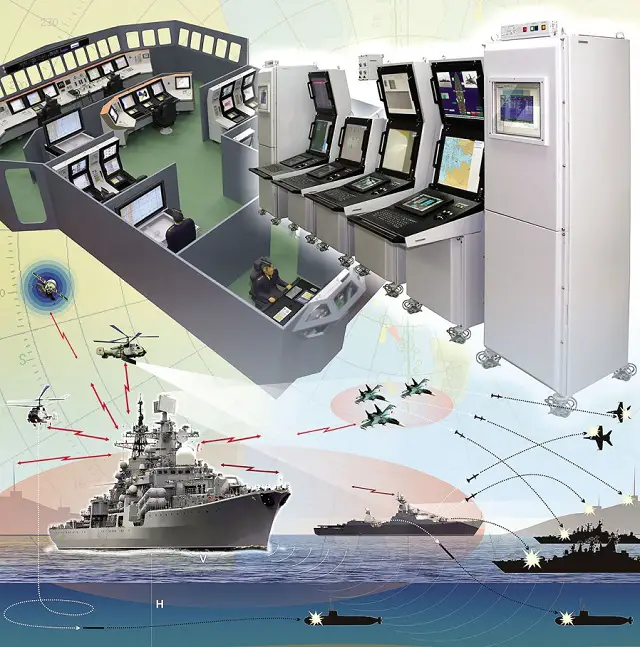 Illustration of the SIGMA-E Combat Management System already in production by Morinformsystem-Agat
.
"It would be correct to speak about a next generation system - combat information control system which is universal or better say consists of modules for various types of warships. Our enterprises are working to create a universal model of the integrated combat control system for various types of surface-going vessels," Antsev said.

He stressed that the new system will comprise a big number of modules in charge of anti-submarine and air defense, control of surrounding space, communications and operation of armaments. The main task is to decrease the response time. "We have to reduce decision-making time for the use of weapons both for warships in cruising formation and in solo navigation," the director of the company said.

The new design is also to have integral control system which assesses the level of threat and the necessity to use that or another type of weapons or available jamming systems. Antsev said several test-beds are being created to unite design specifics of company enterprises. In particular, they study perspective automatic control systems for warships, radar and hydroacoustic complexes, as well as armaments control. "The designed modelling complexes are being united under a common concept which will help us look into the future and determine how "smart" a warship should be to fight a potential adversary, say, in 2025, 2030 or 2035," Antsev said.

© Copyright 2015 TASS. All rights reserved. This material may not be published, broadcast, rewritten or redistributed.