a
Naval Forces News - USA
Cubic's Advanced Data Link Solutions Integrated into Northrop Grumman's MQ-8C Fire Scout UAV
Cubic Global Defense (CGD), a business unit of Cubic Corporation, announced that a Cubic designed and produced Wide Band Line of Sight (WBLOS) data link system integrated into Northrop Grumman Corporation MQ-8C Fire Scout recently completed a successful operational assessment.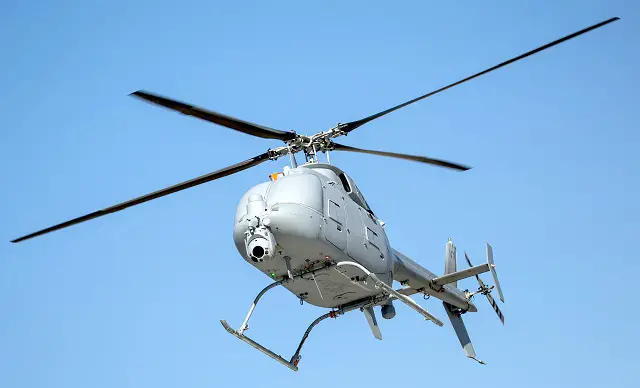 The MQ-8C Fire Scout completes a test flight Nov. 19 2015 at the Point Mugu Sea Range in California. This flight was one of 11 operational assessment events to validate the system's performance, endurance and reliability. (U.S. Navy photo)

Fire Scout is a combat proven, unmanned helicopter system that provides real-time Intelligence, Surveillance and Reconnaissance (ISR), target-acquisition, laser designation and battle management to tactical users without relying on manned aircraft or space-based assets. The MQ-8C Fire Scout is the U.S. Navy's next-generation unmanned helicopter.

Cubic is the provider of the data link system for the MQ-8C Fire Scout, in which two Cubic Miniature Multiband Transceivers (MMT) enable simultaneous Ku Band transmissions. Cubic's MMT is a fast, compact, software defined radio that is fully programmable and can be used with a standard, bandwidth-efficient Common Data Link (CDL), and other waveforms. To support the MQ-8C program, Cubic has delivered more than 20 units in production and spares to date.

"Cubic provides compact, secure wide-band communications and networking solutions for use on manned/unmanned platforms," said Mike Twyman, executive vice president, Communications, Intelligence and Surveillance Systems of Cubic Global Defense. "The successful completion of the operational assessment of MQ-8C Fire Scout is a testament to our strong working partnership with Northrop Grumman."

"Cubic data link is essential to the MQ-8C Fire Scout and was vital to the successful completion of the operational assessment," said Leslie Smith, vice president for medium-range tactical systems at Northrop Grumman. "We value the partnership and outstanding performance of the communication systems provided by Cubic in support of the Fire Scout."

MQ-8C Fire Scout completed the developmental flight test program for the MQ-8C in 2015 and preparations are underway for the next assessment milestone this year.