a
Naval Defence Industry News - USA
BAE Systems Lands $38 Million U.S. Navy Contract for Vertical Launching System Canisters

BAE Systems has received a $38.2 million contract modification from the U.S. Navy to provide additional missile canisters for the Mk 41 Vertical Launching System (VLS). The company will supply more than 300 canisters of various configurations that will be used to store, transport, and launch different kinds of guided missiles from ships.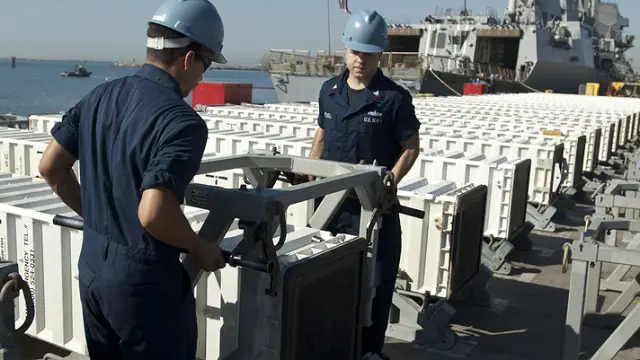 Mk 41 Vertical Launching System Canisters. BAE Systems picture
BAE Systems has been the Navy's exclusive designer and worldwide supplier of Mk 41 VLS canisters for more than 30 years. The company is also the Navy's Mk 41 VLS mechanical design agent, with more than 30 years of experience in the development, production, and support of the Mk 41 launching system.

"We have a long history with the Mk 41 VLS that touches every aspect of the program, from designing and producing the canisters to installing and testing the launching systems," said Joe Sentfle, vice president and general manager of Weapon Systems at BAE Systems. "The canister contract is a testament to our sought-after expertise in supporting this world-class missile launching capability."

In addition to serving as missile shipping and storage containers, the canisters hold rocket motor exhaust, serve as a launch rail to support flyout during missile firings, and provide identification and firing support to multiple missile types, including the Tomahawk, Standard Missile-3, Standard Missile-6, and Evolved SeaSparrow Missile. The canisters are positioned within the Mk 41 VLS, which is located below a ship's armored deck for maximum protection.

The full canister contract — originally awarded following a 2013 competition — is a five-year, base plus options contract covering canister requirements for the Navy through fiscal year 2017. Work on the contract modification will be performed through 2018 at BAE Systems' facility in Aberdeen, South Dakota.