a
Naval Industry News - USA
HII's Ingalls Shipbuilding Awarded $618 Million Contract to Build DDG 123 for the U.S. Navy

Huntington Ingalls Industries' Ingalls Shipbuilding division has received a $618 million contract modification to fund construction of the Arleigh Burke-class (DDG 51) guided missile destroyer DDG 123 for the U.S. Navy. The ship is the fourth of five destroyers the company was awarded in June 2013. Ingalls previously was awarded $55 million in advance procurement for DDG 123, making the full contract $673 million.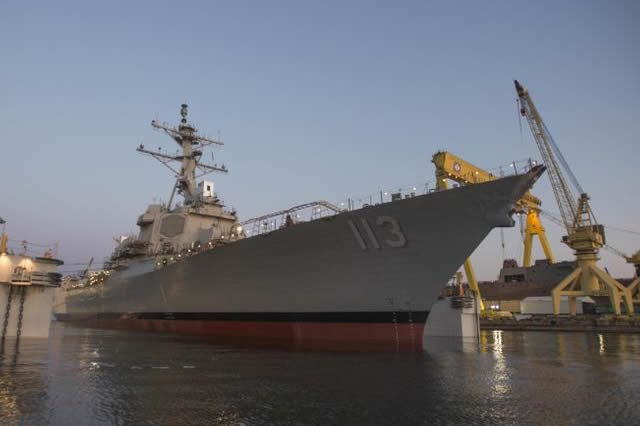 Ingalls Shipbuilding launched the Arleigh Burke-class Aegis guided missile destroyer John Finn (DDG 113) in March 2015. John Finn is the 63rd Arleigh Burke (DDG 51) class destroyer, and the first of the DDG 51 Flight IIA restart ships. DDG 51 Flight IIA Restart ships will provide increased capabilities over previous flights of Arleigh Burke destroyers, including advances in anti-submarine warfare, command and control, and anti-surface warfare.Photo by Andrew Young/HII

"This will be the 34th Arleigh Burke destroyer built at Ingalls, and we thrive on this experience," said George Nungesser, Ingalls' DDG 51 program manager. "Maintaining the same shipbuilding teams from ship to ship is paying dividends to our learning curve. The U.S. Navy sailors manning this future DDG deserve the best quality, and our shipbuilders will provide that in a way that is the most cost-effective."

The five-ship contract, part of a multi-year procurement in the DDG 51 program, allows Ingalls to build ships more efficiently by buying bulk material and moving the skilled workforce from ship to ship. With this contract, Ingalls will be building destroyers through 2023.

Ingalls has delivered 28 Arleigh Burke-class destroyers to the Navy. Destroyers currently under construction at Ingalls are John Finn (DDG 113), Ralph Johnson (DDG 114), Paul Ignatius (DDG 117), Delbert D. Black (DDG 119) and Frank E. Peterson Jr. (DDG 121).

Arleigh Burke-class destroyers are highly capable, multi-mission ships that can conduct a variety of operations, from peacetime presence and crisis management to sea control and power projection, all in support of the United States' military strategy. DDGs are capable of simultaneously fighting air, surface and subsurface battles. The ship contains myriad offensive and defensive weapons designed to support maritime defense needs well into the 21st century.