a
Naval Forces News - Norway
Norway MoD Shortlisted TKMS and DCNS for Ula-class SSK Submarine Replacement
Based on economic, industrial and military assessments, the Norwegian Ministry of Defence has concluded that the French company Direction des Constructions Navales Services (DCNS) and the German company ThyssenKrupp Marine Systems (TKMS) are the strongest candidates if Norway decides to procure new submarines. The Ministry of Defence has decided to focus our future efforts towards these two companies and their respective national authorities.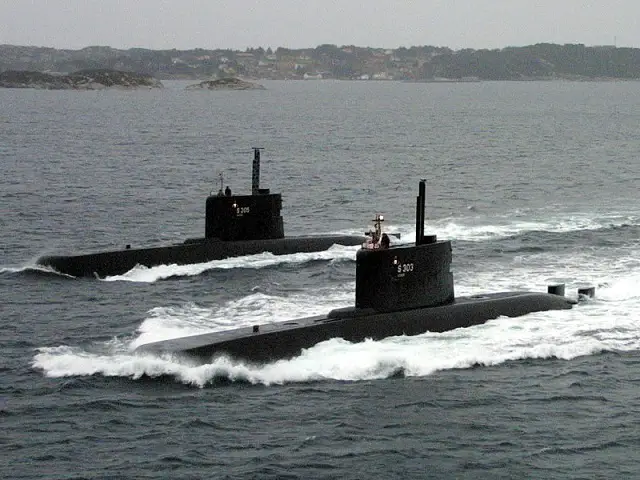 Norway's six Ula class submarines were commissioned between 1989 and 1992, designed for a service life of thirty years. These submarines will be phased out in the 2020's. In addition to aging, technological advances make the Ula-class, which is based on design and technology from the 1980's, insufficient to meet future, high-tech threats. Picture: RNON
- France and Germany are amongst the largest nations in Europe. A submarine cooperation with one of these nations will secure that Norway acquires the submarines we need, whilst contributing to Smart Defence and a more effective cooperation on defence materiel in NATO, says the Minister of Defence Ine Eriksen Søreide.

DCNS and TKMS are the largest manufacturers of submarines in Western Europe. They have extensive experience in building advanced submarines and a large industrial capacity. The submarine designs offered by these two companies will be a good starting point for Norway's future submarines.

- Norway's approach is to base an potential acquisition on an existing submarine design. We want to avoid a large development project with the risk, uncertainty and cost such a project entails. Our criteria is therefore that Norway's future submarines shall be built by a shipyard that has a long and continuous experience in building submarines, says the Minister of Defence.

The Norwegian Government decided in 2014 to investigate options for new submarines. This process is near its conclusion, and a recommendation is planned to be presented to the Norwegian Government during 2016. Pending governmental decision, a formal procurement program will be presented to the Norwegian Parliament for approval.
TKMS Type 212A SSK scale model at MSPO 2015
- It is important to emphasise that we are still in the planning phase, and we have yet to make a decision to go ahead with a procurement program, nor have we made a decision regarding a final supplier. Significant work remains before a procurement program can be presented to the Norwegian Parliament, says the Minister of Defence.

The Ministry of Defence has for several years worked to achieve cooperation with other nations with the aim of reducing the acquisition costs and in-service costs for future submarines. In parallel with work towards the shipyards, the process of seeking cooperation with non-submarine building nations planning a submarine acquisition will continue, primarily towards the Netherlands and Poland.

Cooperation is very important to secure a robust capability and enable burden sharing on in- service support and future upgrades. Several factors must be in place for such a cooperation to succeed. This includes having a common set of requirements and synchronised timelines for acquisition. The cooperating nations will also have to seek common solutions in the areas of logistics and in-service support.

Norway's six Ula-class submarines were commissioned between 1989-1992. The submarines were designed to last for 30 years, and will reach the end of their life in the mid-2020s.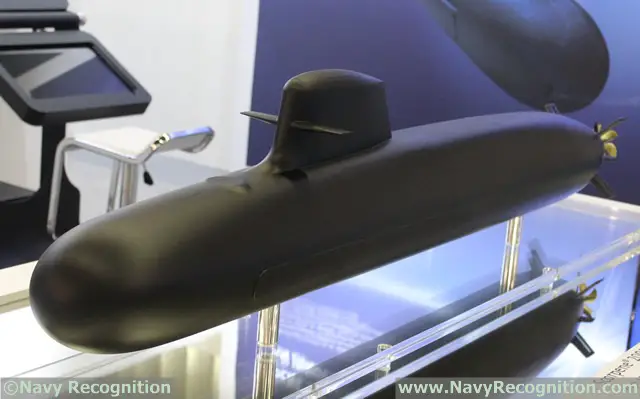 DCNS Scorpene "evolution" SSK scale model at UDT 2015
The current plans are to operate the Ula-class until the mid-2020s. A procurement program for new submarines is expected to take more than ten years with first delivery approximately seven years after signing a contract, with subsequent delivery of one submarine per year.

Norwegian industry is world leading in key technology areas for submarines, and the Norwegian Government will seek to utilize the planned submarine procurement to help strengthen their market access. Export and international cooperation is necessary to maintain a viable national defence industry, and an investment in submarines will be used actively in talks with international partners to help ensure the continued development of a competent and competitive Norwegian defence industry. The Norwegian Parliament expects that a potential future procurement will ensure contracts for Norwegian defence industry equal to the procurement cost, and that these contracts will provide access to the home market of the chosen supplier.